President's Message
Dianne Gertson (TX) President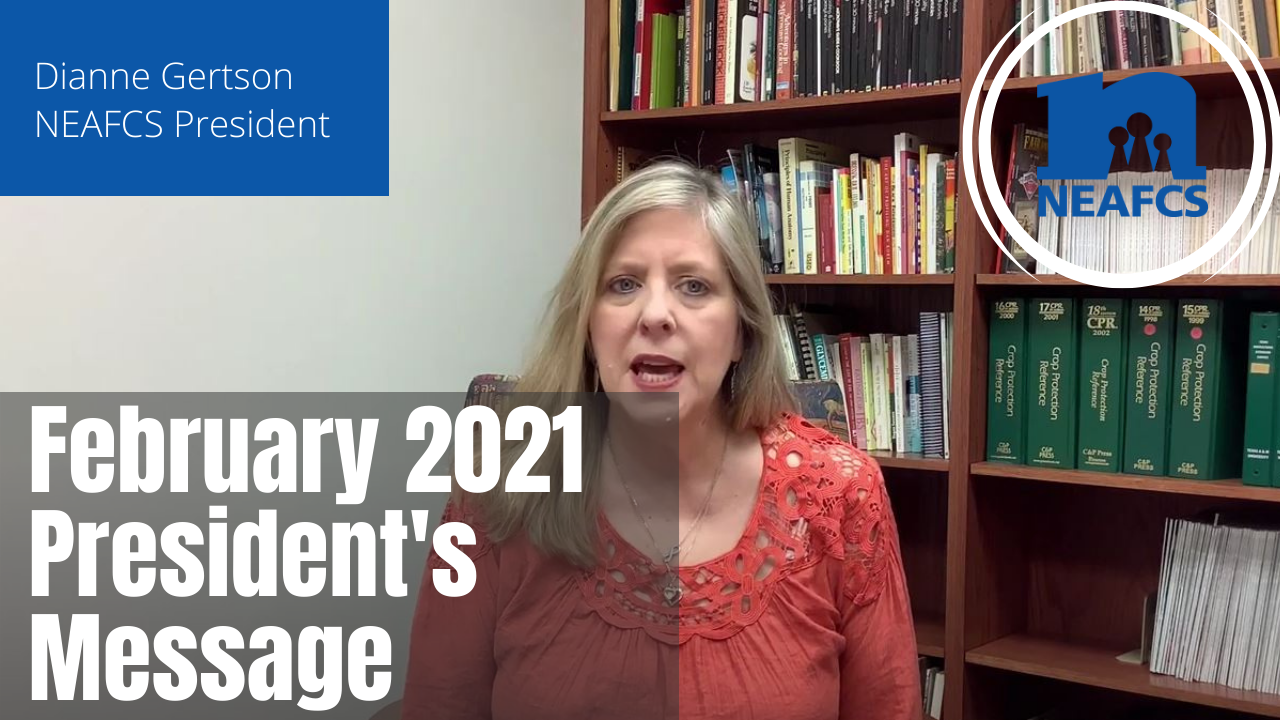 Please click the image above to view this month's President's Message
Mentioned in the President's Message:
The first 5 people to email me with the location of the icon will be entered into a drawing for a free registration to the 2021 NEAFCS Annual Session. 
---
Call for National Office Candidates
The National Nominating Committee is conducting a call for candidates. If you are interested, you can learn more about the various duties and requirements to be eligible for the respective positions in our Bylaws. The positions to be filled are: President-Elect, Treasurer, VP for Public Affairs, VP for Awards and Recognition, Central Regional Director, and Southern Regional Director. If interested, please download the Candidate Application for National Office.
---
Professional Development Update: Webinars & Proposal Reviews
Patricia Brinkman (OH), Vice President of Professional Development
The co-chairs of the Program Subcommittee are busy getting proposals out for peer-review.  Please be patient if you submitted a proposal. With each proposal being reviewed by five people it takes time to do our review process.  Read More
---
Living Well
Mary Liz Wright (IL), Vice President of Public Affairs
March is Living Well month—get ready for a new way to observe our tradition! Vincent Webb, (North Carolina) and his subcommittee members have been working diligently on a series of videos that will inspire all of us to Live Well.  Read More
---
An Invitation to Become an NEAFCS Judge
Julie Garden-Robinson (ND), Vice President of Awards and Recognition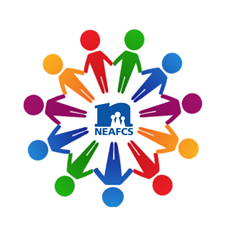 We need and greatly appreciate our NEAFCS Awards and Recognition judges!  I want to sincerely thank all the 2020 judges again for fulfilling their role on a timely basis during our historic and challenging time.  Read More
Sign up to be a judge before March 3 at: https://forms.gle/L2aRHpwRM2t7RFGo7
---
2021 USDA/NIFA Grants for FCS Extension
The United States Department of Agriculture National Institute of Food and Agriculture (USDA/NIFA) is offering two grant opportunities that apply to FCS Extension. Don't pass up these opportunities to get funds! Read More 
---
Embracing One Another's Uniqueness
Elizabeth Brunscheen-Cartagena (KS), Diversity Subcommittee
Often, children who believe that everyone sees the world the same way, learn by the age of 5 that other perspectives exist. That painful struggle of pulling and yielding thrusts us into the basics of relationships; the recognition of differences in others.  Read More
---
What Are the Changes to Awards in 2021?
John Fuller (MO), Chair of the Awards and Recognition Training Subcommittee 
2020 has been a year of change.  Awards and Recognition is no different in 2021.  Here are those changes this year.  Read More
---
Journal of NEAFCS
The 2020 issue of the Journal of NEAFCS is available to read and share. You can view all of the archived issues online by clicking here. The call for articles for the 2021 issue is currently open. You have until March 15, 2021 to submit your article. Don't delay - apply today! 
---
Meet the Board
Patricia Brinkman (OH), Vice President of Professional Development
Hi, NEAFCS family!  I, Pat Brinkman, am honored to serve as your Vice President of Professional Development.  A little about my background, I became aware of Extension through 4-H as I grew up on a dairy farm in another county in Ohio.  Read More
---
Member Spotlight Video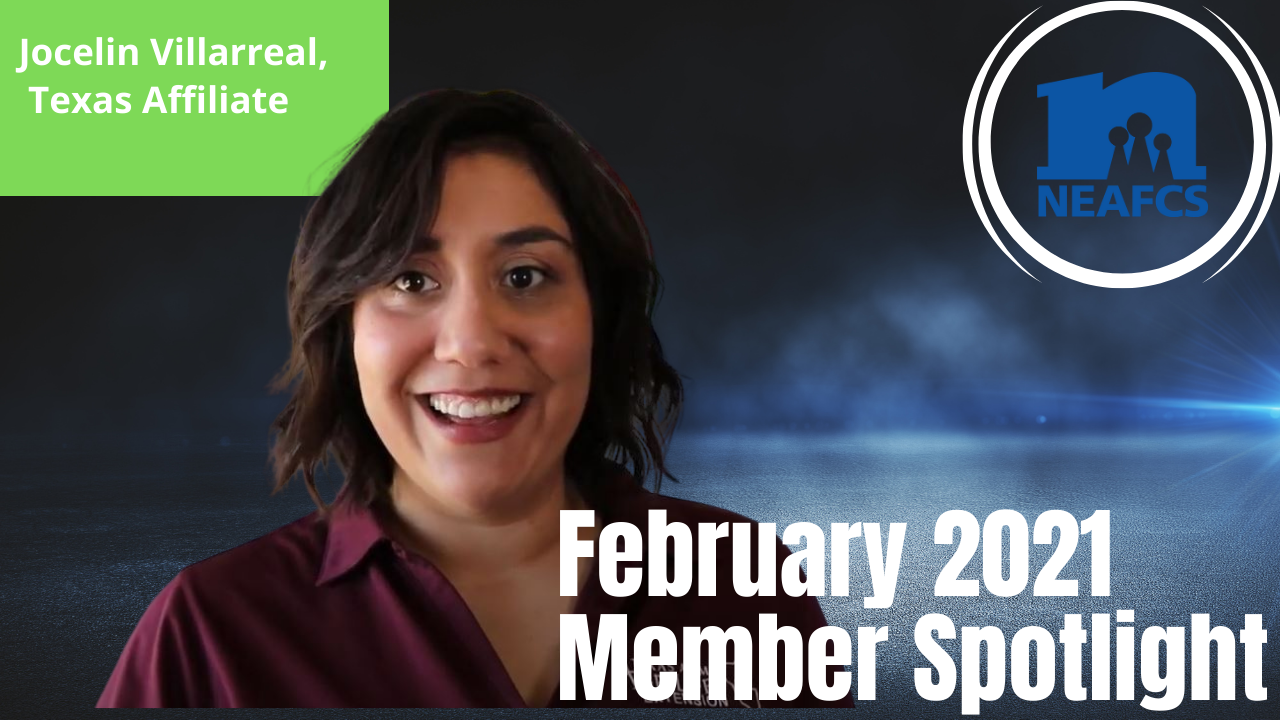 Please click the image above to watch this month's member spotlight video featuring Jocelin Villarreal from the Texas Affiliate.
---
Are you ready (financially) for NEAFCS in Grand Rapids?
Barb Wollan (IA), Treasurer
I think we're all ready to be back together at a face-to-face annual conference this fall – the virtual conference was remarkably valuable, but it's not quite the same as being together. But on the other hand, are you financially ready? That might be another question.   Read More

---
Introducing the Van Andel Museum!
Danielle Melching (MI), 2021 Annual Conference Committee Planning Member
Greetings from Michigan! My name is Danielle Melching, I am a member of the 2021 Annual Conference Planning Committee.  I would like to take a brief moment to introduce the Van Andel Museum, located in downtown Grand Rapids - where the welcome event is being held. Read More
---
21 Tips for 2021
Barb Wollan (IA), Treasurer
What kind of tips do you want to hear from your Treasurer? I pondered that a moment, wanting to surprise you and be non-financial with my tips. But I couldn't do it.  Read More
---
Award Winning Programming from NEAFCS Members
Communications Awards - Television/Video:
1st Place National Winner - Ami Cook & Team, West Virginia

"Be Wild, Be Wonderful, Be Healthy"
Be Wild, Be Wonderful, Be Healthy is a community-based approach to reduce obesity through policy, systems, and environmental changes that improve the communitys access to physical activity and healthy foods. 
Team Members: Emily Murphy, Kerry Gabbert, Michael Shamblin, Sam Zizzi, Sean Bulger, Eloise Elliot, and JD Belcher
File 1, File 2, File 3
---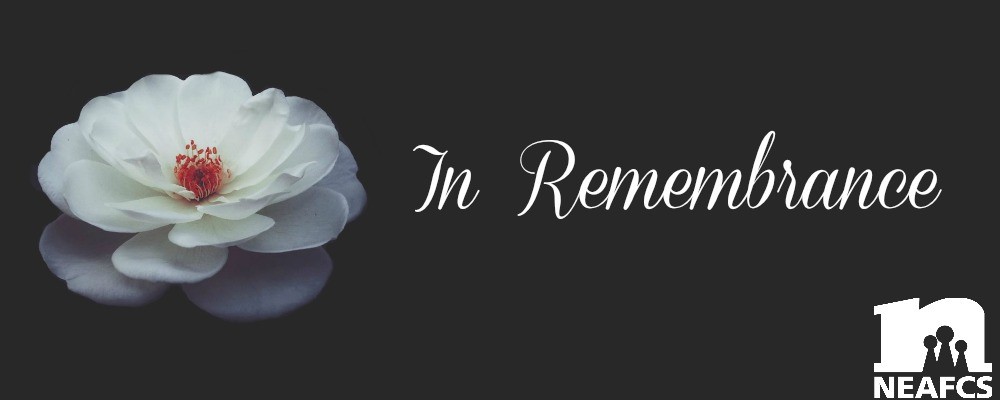 Future issues of the NEAFCS Network will include recognition of members who have passed. If you would like to report the death of a NEAFCS member, please click here.
Patricia Margolis (KY), Life Member
Benita Peoples (KY), Active Member