Evolution of the Newsletter
As you have hopefully noted, we have taken your feedback about how to improve the NEAFCS Network and made some changes. We will continue to do so as we move forward. Keep those ideas and tips coming to President Roxie Price to help us improve!
---
Important Dates
Webinar: NEAFCS- Making the most of your adventure
May 13, 2020
NEAFCS Annual Session Hotel Block Deadline
August 13, 2020
NEAFCS 2020 Annual Session
September 14-17, 2020
Snowbird Resort, UT 
NEAFCS 2021 Annual Session
November 2 - 5, 2021
Amway Grand, Grand Rapids, MI
NEAFCS 2022 Annual Session
September 12 - 15, 2022
Marriott City Center & Sheraton Raleigh, Raleigh, NC
---
Mountain Icon made by Freepik from www.flaticon.com
President's Message
Roxie Price (GA), President  
Please click the image below to view this month's President's Message from Roxie Price. 
The first 5 people to email me with the location of the icon, and a tip on how to enhance this newsletter, will be entered into a drawing for a free registration to the 2020 NEAFCS annual conference in Snowbird, Utah. 
---
NEAFCS is keenly aware of the professional challenges that our members are facing relative to the COVID-19 pandemic. NEAFCS has a created an ever growing list of focused resource links to help members with questions on a variety of issues and ready our Extension educators to help address concerns within the communities we serve. Click here to view these resources.  Help us grow our State Affiliate Resource Webpage (https://www.neafcs.org/covid-19-resources---state-resources) by sending in your resources to be shared with members and the public.
We ask that you help share important resources by using the following hashtags: #NEAFCSresponds,  #FCSresponds
---
JCEP Extension Leadership Conference
Dianne Gertson (TX), President-Elect 
San Antonio, Texas was the sight of the 2020 JCEP Extension Leadership Conference. 
More than 40 NEAFCS members attended with 28 receiving first-timer scholarships. Read More
---
Member Resources Update
Cindy Davies (NM), Vice President Member Resources

Please click the image below to view this month's video message from our Vice President Member Resources, Cindy Davies.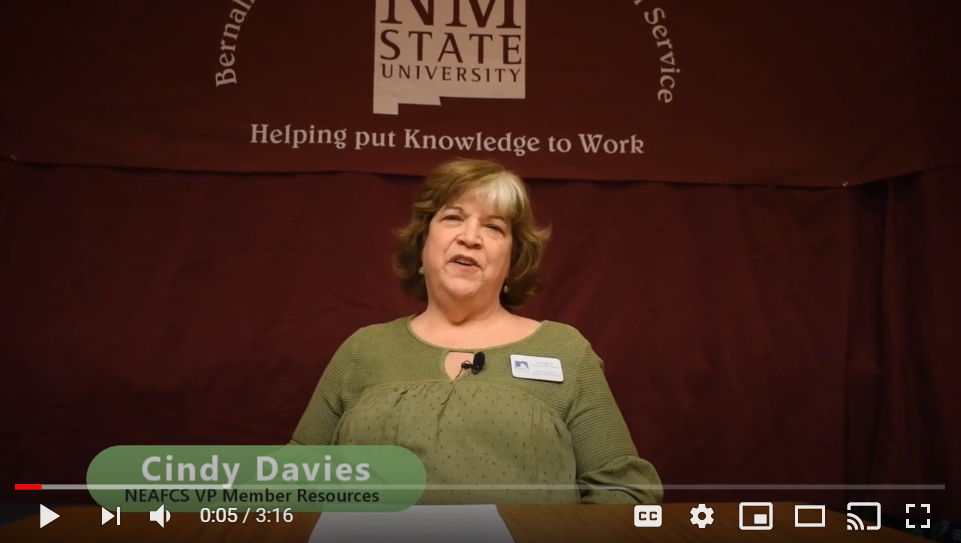 ---
NEAFCS Awards Are Being Judged
Julie Garden-Robinson (ND), Vice President for Awards and Recognition
I send my greetings to everyone.  Our world drastically changed in 2020, and now our efforts throughout the nation are needed as much as, if not more than, ever.  Read More
---
Public Affairs Update
Mary Liz Wright (IL), Vice President for Public Affairs
Surreal, unprecedented, making history…how often have we used those words these past few days? At the risk of redundancy, I will repeat---despite our surreal work situations our Impact Statement reviewer/compilers/editors have done a marvelous job!  Read More
---
Public Issues Leadership Conference (PILD)
Jackie Carattini (WI), NEAFCS PILD Representative
Please click the image below to view a message by Jackie Carattini, your NEAFCS PILD Representative.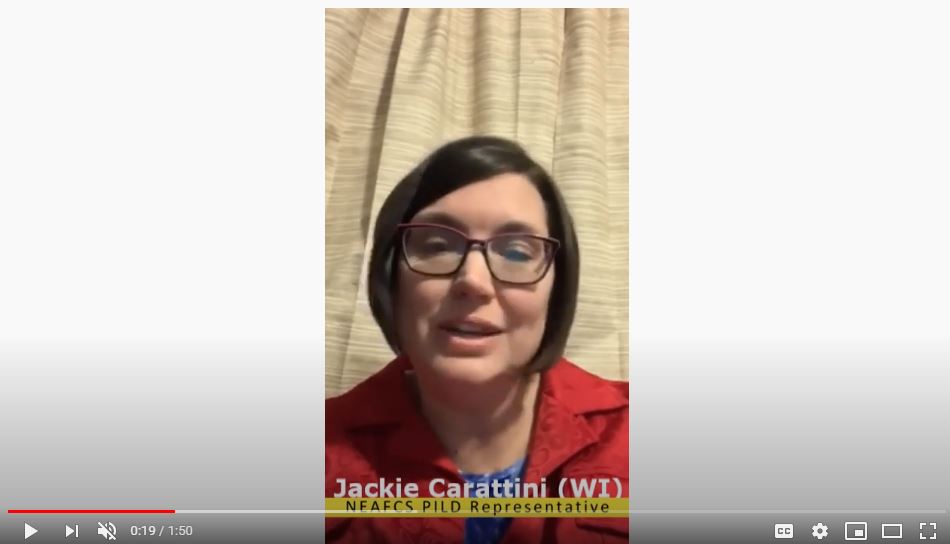 ---
Exciting News and Opportunities with Journal of Extension (JOE)
Dana Wright (WV), JOE Liaison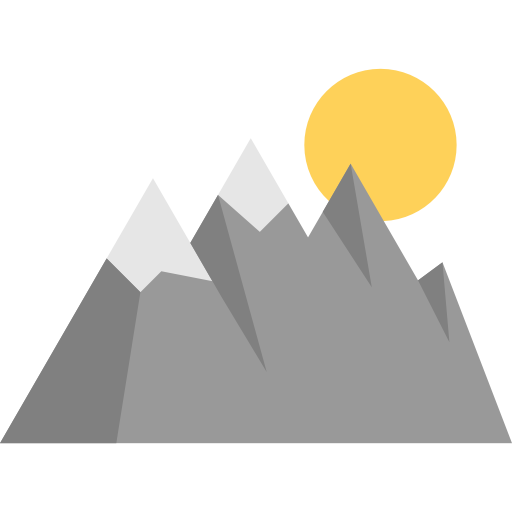 Greetings, I hope that each of you and your loved ones are remaining well amid the COVID-19 pandemic. The Journal of Extension (JOE) has been very productive over the last few months.   Read More
---
Five Fantastic Reasons to Attend 2020 Annual Session in Snowbird Utah
Sheila Gains (CO), 2020 Annual Session Tri-liaison 
Educational Pre-Conferences – Workshop topics will include: activities and lesson plans to teach and promote home baking; strategies for entrepreneur success from a family known for their food, health and lifestyle blogs, videos and publishing; and more!  Read More
---
Mental Health and the effects on African Americans
Terri Thompson (MS), NEAFCS Diversity Committee Member
There are many myths about depression and African Americans like: "Why are you depressed? If our people could make it through slavery, we can make it through anything."  Read More
---
Eastern Region Update
Sharon McDonald (PA), Eastern Regional Director
Please click on the image below to view this month's message from Sharon McDonald.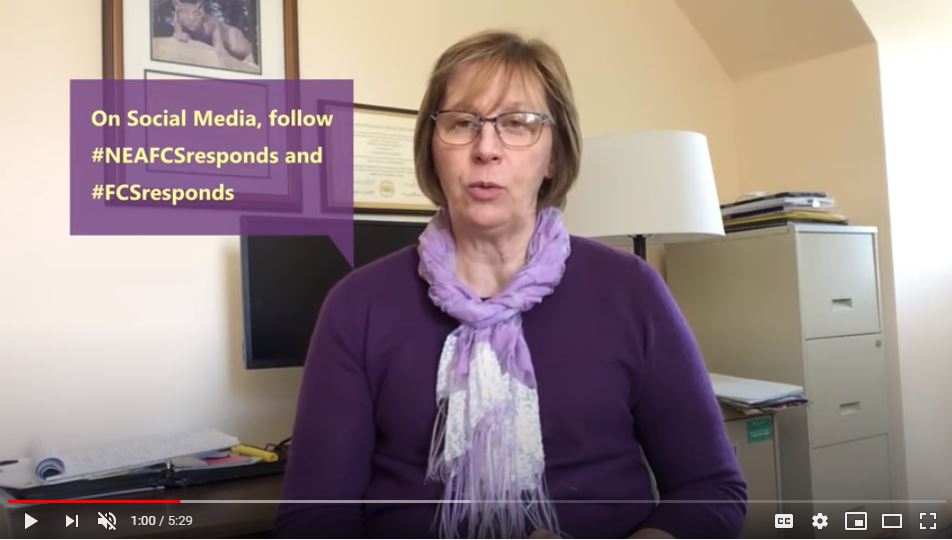 ---
85th Anniversary - Kentucky Affiliate
Debby Mathews, (AL) 85th Anniversary Chairman  
Please enjoy reading these excerpts from Kentucky's report! With 109 members in this affiliate, they can spread out and get lots done quickly! Cheers to them on coordinating efforts throughout Kentucky to spread the news about NEAFCS.  Read More