Evolution of the Newsletter
We have 2 new features in this issue! You've asked to hear more about the programming your fellow members are conducting and we're delivering by highlighting previous 1st place National Award winning programs. Additionally, NEAFCS staff will be offering a quick tip each issue moving forward.
As you have hopefully noted, we have taken your feedback about how to improve the NEAFCS Network and made some changes. We will continue to do so as we move forward. Keep those ideas and tips coming to President Roxie Price to help us improve!
---
Important Dates
NEAFCS Affiliate Annual Session Scholarship
Application window June 10 - August 31
Webinar: Stigma Reduction for the Opioid Epidemic
August 5, 2020 03:00 PM Eastern Time
Webinar: Taking Care of You: Body, Mind, Spirit
August 12, 2020 02:00 PM Eastern Time

Webinar: How Multidisciplinary Extension Teams Can Impact the Opioid Crisis: A Review with First Year Impacts
August 25, 2020 02:00 PM Eastern Time
NEAFCS 2020 Annual Session - VIRTUAL
September 14-16, 2020
Early Bird Deadline August 23, 2020
Webinar: SAFE: Training to Prevent Child Sexual Abuse
October 14, 2020 02:00 PM Eastern Time
Webinar: Coffee Time: Exploring Health Benefits and Cautions
March 16, 2021 03:00 PM Eastern Time
National Extension Conference on Volunteerism (NECV)
April 26-29, 2021
Hard Rock Hotel and Conference Center in Tulsa, OK

NEAFCS 2021 Annual Session
November 2 - 5, 2021
Amway Grand, Grand Rapids, MI
NEAFCS 2022 Annual Session
September 12 - 15, 2022
Marriott City Center & Sheraton Raleigh, Raleigh, NC

---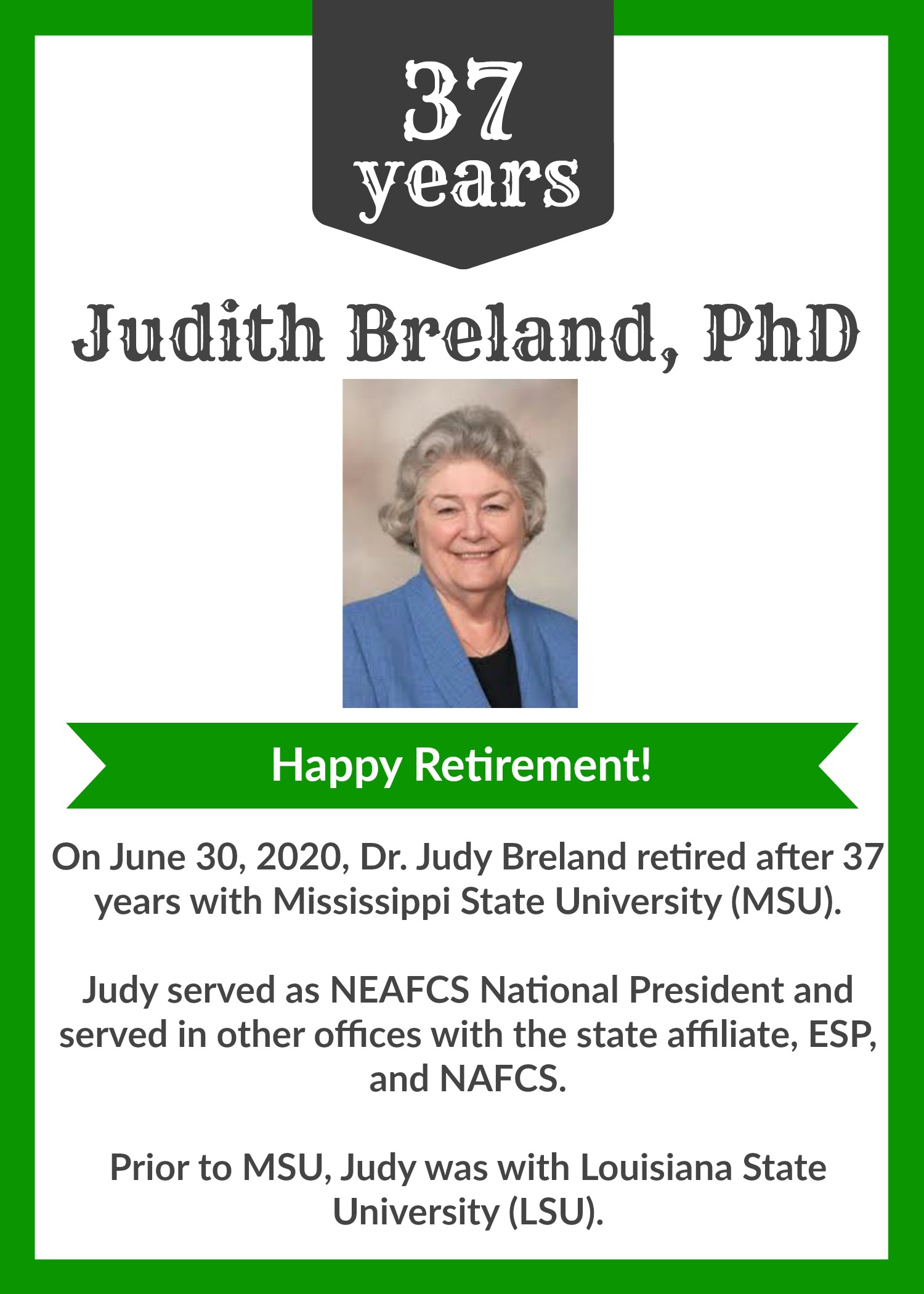 ---
Mountain Icon made by Freepik from www.flaticon.com
President's Message
Roxie Price (GA), President   
In just two short months we will be making history with the first-ever NEAFCS virtual Annual Session. Make sure you are a part of this history by registering as soon as possible. The excitement is growing as the Executive Board members, the Annual Session Liaisons, planning committees, and the management company collaborate to paint this new picture. Read More
The first 5 people to email me with the location of the icon, and a tip on how to enhance this newsletter, will be entered into a drawing for a free registration to the 2020 NEAFCS virtual annual conference. 
---
2020 Nominating Committee Report
Karen Munden (VA), Immediate Past President  
Although we have gone through a world-wide pandemic and "Stay in Shelter" orders, the 2020 Nomination Committee continued to work through all barriers that came our way.  Words cannot express how grateful I was to have a group of individuals that were involved with the process from the beginning until the end. 
On behalf of the NEAFCS 2020 Nominating Committee it is my pleasure to present the candidates for the 2020-2021 slate of officers: Read More 
---
---
Tips for Attending the 2020 NEAFCS Annual Session
Sheila Gains (CO), 2020 Annual Session Tri-liaison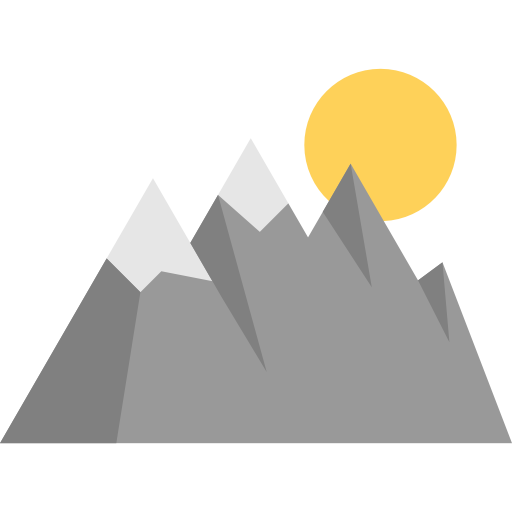 Review Agenda and Set Personal Goals – Examples:

I will learn about at least one program that I will replicate it in my county within 12 months.

I will gather enough information to write two blogs/articles in 2020.

I will meet at least three new people (presenters, exhibitors, or attendees).  I will add them to my contact list and/or Linked-In network and connect with them within 30 days.

I will participate in at least two interactive elements of the conference.
---
Award-winning Application Team Leaders: RSVP by August 3
Julie Garden-Robinson (ND), Vice President for Awards and Recognition 
Congratulations again to all of our applicants for the 2020 NEAFCS awards program! A pandemic did not stop our hard-working judges from their tasks, and I thank them again for their service.  They had difficult decisions to make with all of the great applications they judged. Read More 
---
More Details from the Silent Auction Committee
Melissa Wyatt (AZ), Silent Auction Chair
You may have heard this year's Silent Auction has gone virtual, just like our Annual Session. We are still looking forward to having a great time and raising funds for Awards through the Auction.
Here is what you need to know about the Virtual Silent Auction  Read More
Direct link to 2020 Silent Auction Donation Form
---
Member Spotlight Video
Please click the image below to view this month's Member Spotlight Video featuring Lindsey Stevenson, Affiliate President of Missouri (MEAFCS):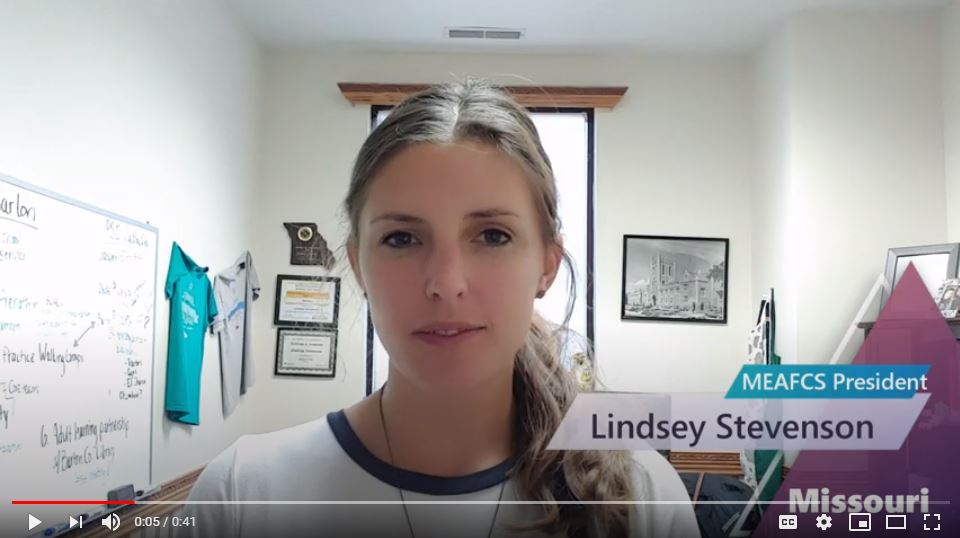 ---
Serving Our Members in 2020
Cindy Schlenker Davies (NM), Vice President for Member Resources 
I know you've heard and most likely said, this is such a strange time! 
Now that the decision has been made and registration is open for our first ever Virtual Annual Session, we are excited.  Yes, we will miss the big hugs and catching up with old friends but we think there will be many great takeaways this year.  Read More
---
Is "Privilege" a Dirty Word?
Glenn Sturm (VA), Diversity Committee Member

The word privilege, particularly as it relates to social equality and diversity, has become a polarizing word, but should it be? Privilege, in this context, is defined as unearned access to resources or benefits available to some people as a result of their advantaged social group identities.  Read More
---
Professional Development Update
Jayne McBurney (NC), Vice President for Professional Development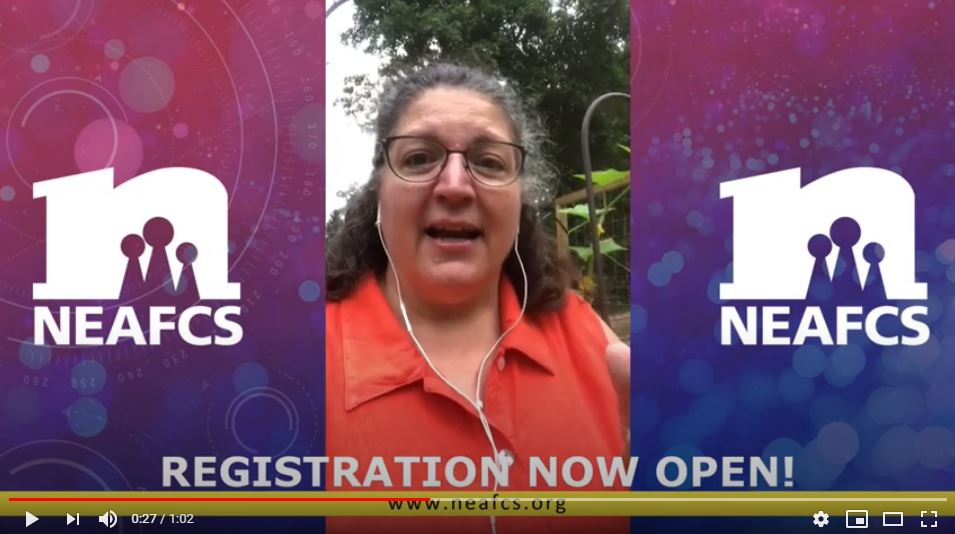 Please click on the image above to access this month's message from Jayne McBurney, VP for Professional Development.
---
Eastern Region Update 
Sharon McDonald (PA), Eastern Regional Director 
Just like everyone else, here in the east our members have been adjusting to the "new normal" and doing phenomenal things to continue to serve our clients. Here are just a few snippets.  Read More
---
Central Region Update 
Vanessa Hoines (ND), Central Regional Director 
It is no surprise that the states in the Central Region have risen to the challenge of the past few months.  Read on to learn about innovative programs, social media campaigns and fresh ideas to connect with citizens, that are happening in these states.  Read More
---
Ohio Documented the Present as it Celebrated our 85th 
Debby Mathews, (AL) 85th Anniversary Chairman 
In the Ohio Affiliate report these two items from our 85 Ways to Celebrate got my attention:
#31 - Take a photo of each affiliate member. Make a collage with the photos and post on your webpage (working with State Office Coordinator picture list).
#39 - Prepare a photo display that highlights activities of your affiliate today and in years past for use at in-service opportunities and association sponsored events. 
---
Award Winning Programming from NEAFCS Members
This is a new feature of the newsletter! You asked for examples of the programming that your fellow members are producing and we'll be doing just that each issue. 
Clean and Healthy Families & Communities Award
National Winner: Lorrie Coop, Texas
"Food Safety in the Workplace"
This worksite wellness program emphasizes the importance of handwashing when preparing, storing lunches and consuming foods on the job, for employees with no access to heat, refrigeration or handwashing facilities.
Look at the actual Award Submission: File 1, File 2 
---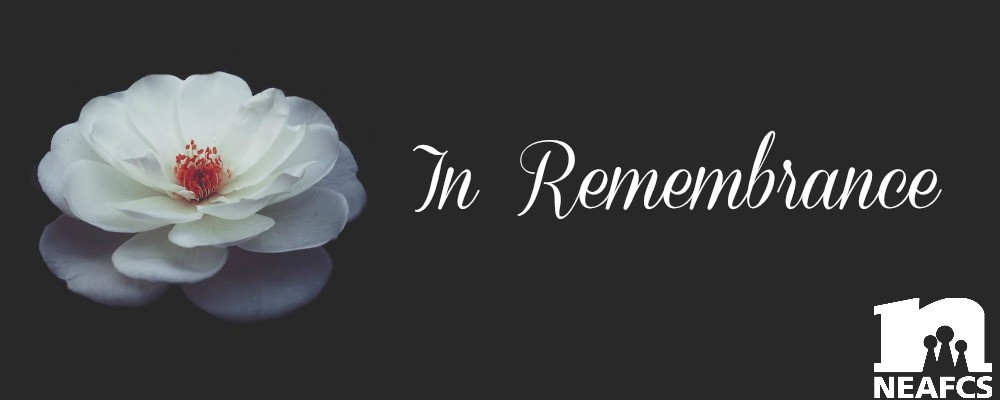 Future issues of the NEAFCS Network will include recognition of members who have passed. If you would like to report the death of a NEAFCS member, please click here.
Barbara Kinnan (PA), Lifetime Member
Josephine Kotch (PA), Lifetime Member
Emilie Lunger (PA), Lifetime Member
Justine Olive (PA), Lifetime Member
Edith Reisler (PA), Lifetime Member
Lura Sollenberger (PA), Lifetime Member
Eunice Tibbott (PA), Lifetime Member
Greta Vairo (PA), Lifetime Member
Frances Vannoy (PA), Lifetime Member
Virginia Houseknecht (NY), Lifetime Member
Alice Sprout (NY), Lifetime Member
Judy Webster (NY), Lifetime Member