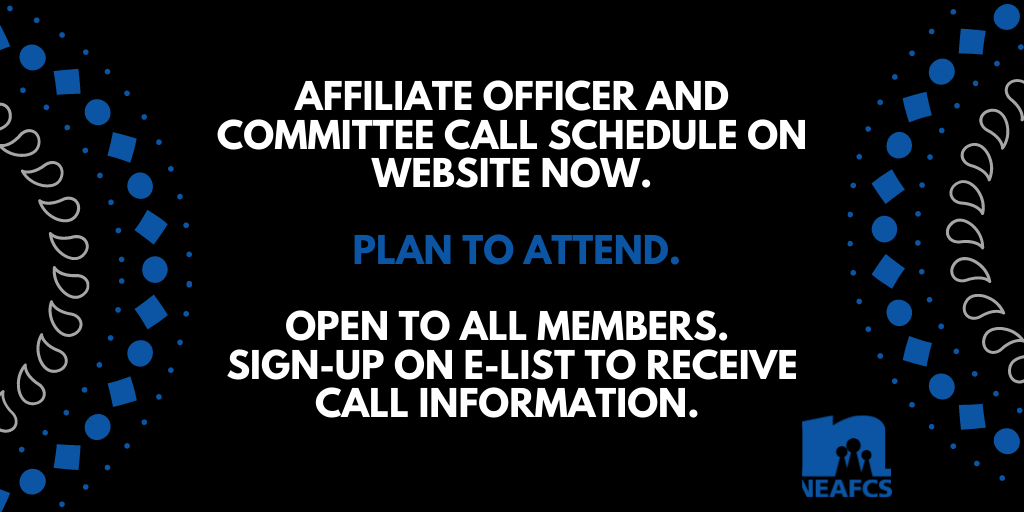 President's Message
Roxie Price (GA), President   
A true passion of mine is making multistate connections within NEAFCS. Through these avenues, multistate programming is created, impact is increased, and friendships are formed. Read More
The first 5 people to email me with the location of the icon, and a tip on how to enhance this newsletter, will be entered into a drawing for a free registration to the 2020 NEAFCS virtual annual conference. 
---
Meet the 2020 Candidates for National Officers
Karen Munden (VA), Immediate Past-President
Make sure to join us during the opening session on September 14th at 12:00 MDT for the 2020 Annual Session to hear from the President-Elect, Secretary, Vice-President Member Resources, and Vice-President for Professional Development candidates.  Read More 
Direct link to the Candidate Position Statements: https://neafcs.memberclicks.net/2020-board-candidates
---

---
Worried About Our Budget? Watch This!
Barb Wollan (IA), Treasurer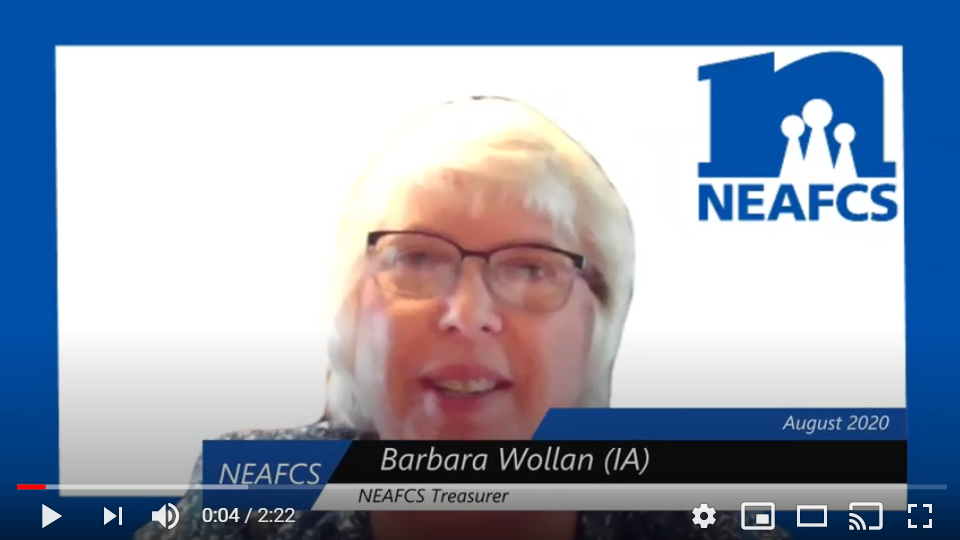 Click the image above to watch our NEAFCS Treasurer, Barbara Wollan, explain our yearly transfer of funds and the general state of NEAFCS financials.
---
Proposed Bylaw Changes
Jessica Trussell (MO), Secretary 
The NEAFCS Bylaws Committee recommends the following proposed changes to the NEAFCS membership regarding the NEAFCS Bylaws. These proposed changes will be presented for a vote during the Annual Session business meeting.  Read More
Direct Links:
Bylaws Changes
Rationale Document
---
Silent Auction Paperwork and Photos Due by August 31
Julie Garden-Robinson (ND), Vice President for Awards and Recognition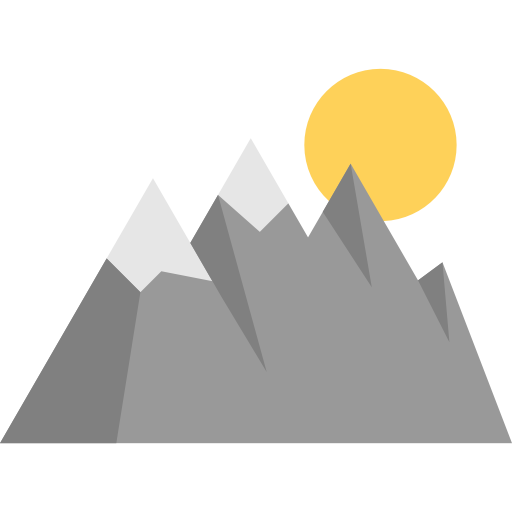 We need donations of items from states to raise funds for the NEAFCS Awards Program. Please help us secure donations. Read More 
---
Annual Session: Experience Life Elevated
Kathy Riggs (UT), 2020 Annual Session Tri-liaison
Although the 2020 Annual Conferencehas been transitioned to a virtual format, we still want to encourage you to join your colleagues to "Experience Life Elevated" at 8,000- 11,000 ft. Read More  
---
The Subcommittees need You!
Cindy Schlenker Davies (NM), Vice President for Member Resources
NEAFCS needs you, our wonderful active and life members, to be involved! One of the best ways to be involved is through our many subcommittees.  Read More
---
Professional Development: That's what it's all about!!!
Jayne McBurney (NC), Vice President for Professional Development 
The national pandemic may have you feeling like you are in a game of the Hokey Pokey! Did you know that Professional development IS what NEAFCS is all about? Read More
---
Staying Connected with Diverse Communities During COVID-19
Brittany Martin (TX), Diversity Committee Member
During this pandemic, you are no doubt realizing just how many routines and normalcies in your life have been upended. Things we take for granted both at work and at home are changing quickly, and it is no different for those in the many diverse communities you serve.   Read More
---
Southern Region Update
Lorrie Coop (TX), Southern Region Director 
Ines Beltran, Georgia Affiliate
In February of this year, the President-Elect and I attended the JCEP meeting in San Antonio, Texas. We attended helpful sessions such as Creating a Constructive Path for Conflict Management and Resolution, Communication Tools for Leaders: Keys to Understanding and Collaboration, and Work Place Communication Plus: Taking professional Communication to the Next Level.  Read More
---
Western Region Update: News from the West
Mary Ellen Fleming (CO), Western Regional Director  
Our Western Region Affiliates have been busy during the Coronavirus Pandemic reaching out to clientele virtually. Please read on to learn all about it!  Read More
---
AAFCS Board of Directors Special Announcement about Carolyn Jackson 
A message from the new President of the American Association of Family and Consumer Sciences about Carolyn Jackson. Read More
---
Member Spotlight Videos
Click the images below to view the two member spotlights this month. Joy West, from Arkansas, and Apriell Burgess, from Alabama, share with us why membership with NEAFCS is important.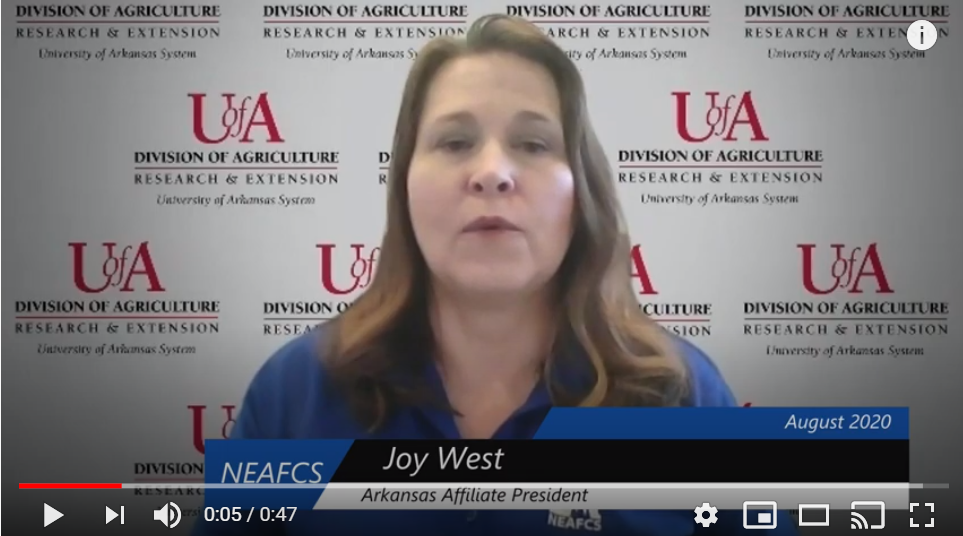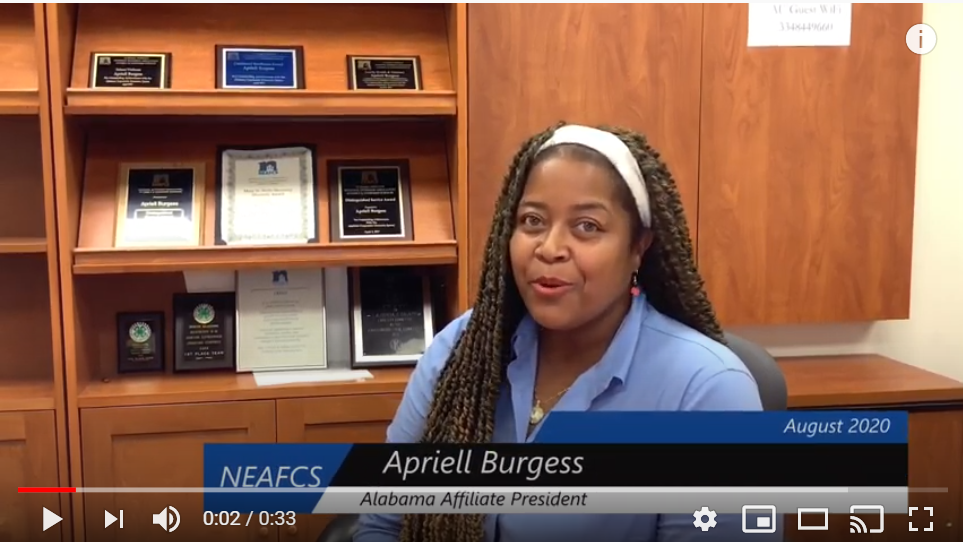 ---
Start With "Why"
Debby Mathews, (AL) 85th Anniversary Chairman 
Why does NEAFCS exist? Will the reason(s) for existence continue in the future?   Read More
---
And as the curtain closes......
Debby Mathews, (AL) 85th Anniversary Chairman 
Appropriately, Utah steps into the spotlight as we bring a year of 85th anniversary reports to a close. While they are in the spotlight, join me in applauding them for creating a fictional character named Barbara Morgan to give a synopsis of the history of NEAFCS at their 2019 state in-service training.  Read More
---
Award Winning Programming from NEAFCS Members
This is a new feature of the newsletter! You asked for examples of the programming that your fellow members are producing and we'll be doing just that each issue. 
Clean and Healthy Families & Communities Award
National Winner: Ally Garrett & Team, Texas
"Cleaning with Care and Confidence in Your Day Care Center"
The curriculum educates child care providers on proper cleaning, sanitizing and disinfecting practices critical for healthy child care environments. Providers are able to prevent the spread of infections plus create a sense of wellbeing for parents.
Team Members:Dianne Gertson, Michelle Wright, Hannah Krebs, Gayle Bludau, Denise Goebel, Jenifer Boening, Julie Gould, and Jodi Nerren
Look at the actual Award Submission: File 1, File 2, File 3
---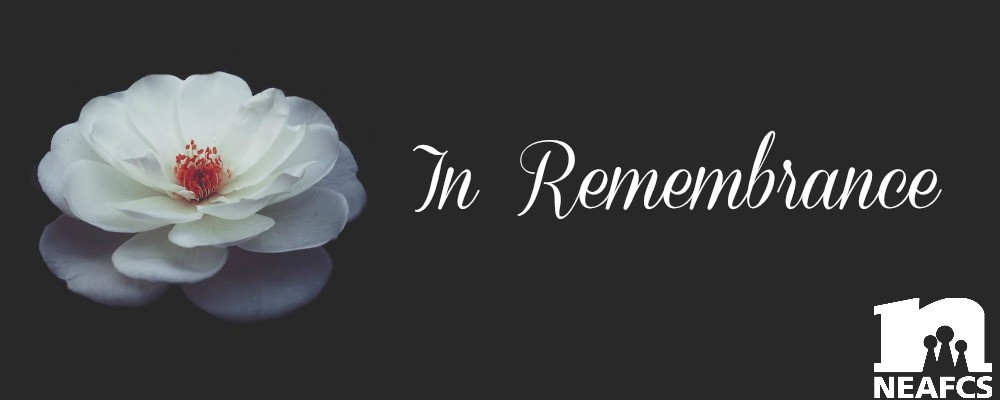 Future issues of the NEAFCS Network will include recognition of members who have passed. If you would like to report the death of a NEAFCS member, please click here.
Grace Jennings (VA), Lifetime Member
Sandra Jones (OK), Life Member
Dorothy Irene Brown (NC), Lifetime Member (died May 24, 2010)
Wilma Jean Lower (MO), Lifetime Member
Glenda Hawkins (MO), Lifetime Member
R. Beth Burke (MO), Lifetime Member