DECEMBER:
JCEP ELC Scholarship
December 15, 2020 - January 11, 2021
PILD First Timer Scholarships - opening soon!
Impact Statement Reports
December 1 - February 1
2021 Annual Session Call for Proposals Portal
December 1 - January 31
2021 Annual Session Reviewer Sign-up
December 1 - January 31
Endowment Project Proposal Portal
December 1 - January 31
2021 Awards Submission Portal Open
December 1, 2020 - March 15, 2021
NEAFCS Member Renewals Due at National HQ
December 31, 2020
JANUARY 2021
2021 Journal of NEAFCS Submission Portal
Opens January 1

FEBRUARY 2021
Webinar: How to Review a Proposal
February 2, 2021 @ 1:00 PM Eastern

Webinar: Leadership Experience: The new mentoring and leadership opportunity for NEAFCS members
February 4, 2021 @ 3:00 PM Eastern
MARCH 2021
Webinar: Coffee Time: Exploring Health Benefits and Cautions
March 16, 2021
3:00 PM Eastern Time
APRIL 2021:
National Extension Conference on Volunteerism (NECV)
April 26-29, 2021
Hard Rock Hotel and Conference Center in Tulsa, OK 
2021 Public Issues Leadership Development Conference (PILD)
April 11-14, 2021
Hyatt Regency Hotel Crystal City, Arlington, VA 
NEAFCS 2021 Annual Session
November 2 - 5, 2021
Amway Grand, Grand Rapids, MI
NEAFCS 2022 Annual Session
September 12 - 15, 2022
Marriott City Center & Sheraton Raleigh, Raleigh, NC
---
Be COVID Prepared Toolkit (from FEMA)

It was created specifically for college and university students, and employees who may test positive for the coronavirus or be exposed to someone who has tested positive. If you have already received this through other sources- fantastic. If not - this information is well worth your review. We would also encourage you to forward this toolkit to any partners that you think would find it beneficial.
From NEAFCS: We put together the documents FEMA sent into a single PDF for your ease of use. You can find that file by visiting: https://neafcs.memberclicks.net/assets/documents/Be-COVID-Prepared-Toolkit-Nov-2020.pdf
Additionally, we would suggest checking the CDC's Colleges and Universities section: https://www.cdc.gov/coronavirus/2019-ncov/community/colleges-universities/index.html 
---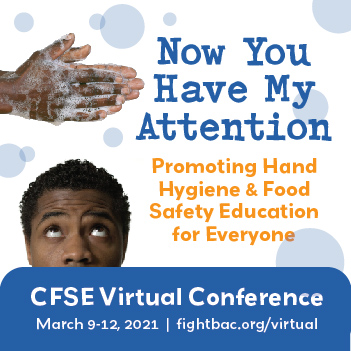 2021 Consumer Food Safety Education Conference 
When the pandemic began, food safety was a top concern. People worried if they should use bleach on produce―or if groceries should be kept in the garage for three days. Health and food safety educators stepped up and delivered clear, science-based guidance on safe food handling and the importance of handwashing.
 
Join us at the 2021 Consumer Food Safety Education Virtual Conference, March 9 – 12 as we share lessons learned, best practices, and how to cut through the message clutter. Hosted by the Partnership for Food Safety Education, the 2021 CFSE Virtual Conference is the only conference in the U.S. dedicated to consumer food safety education. For more information or to register, visit fightbac.org/virtual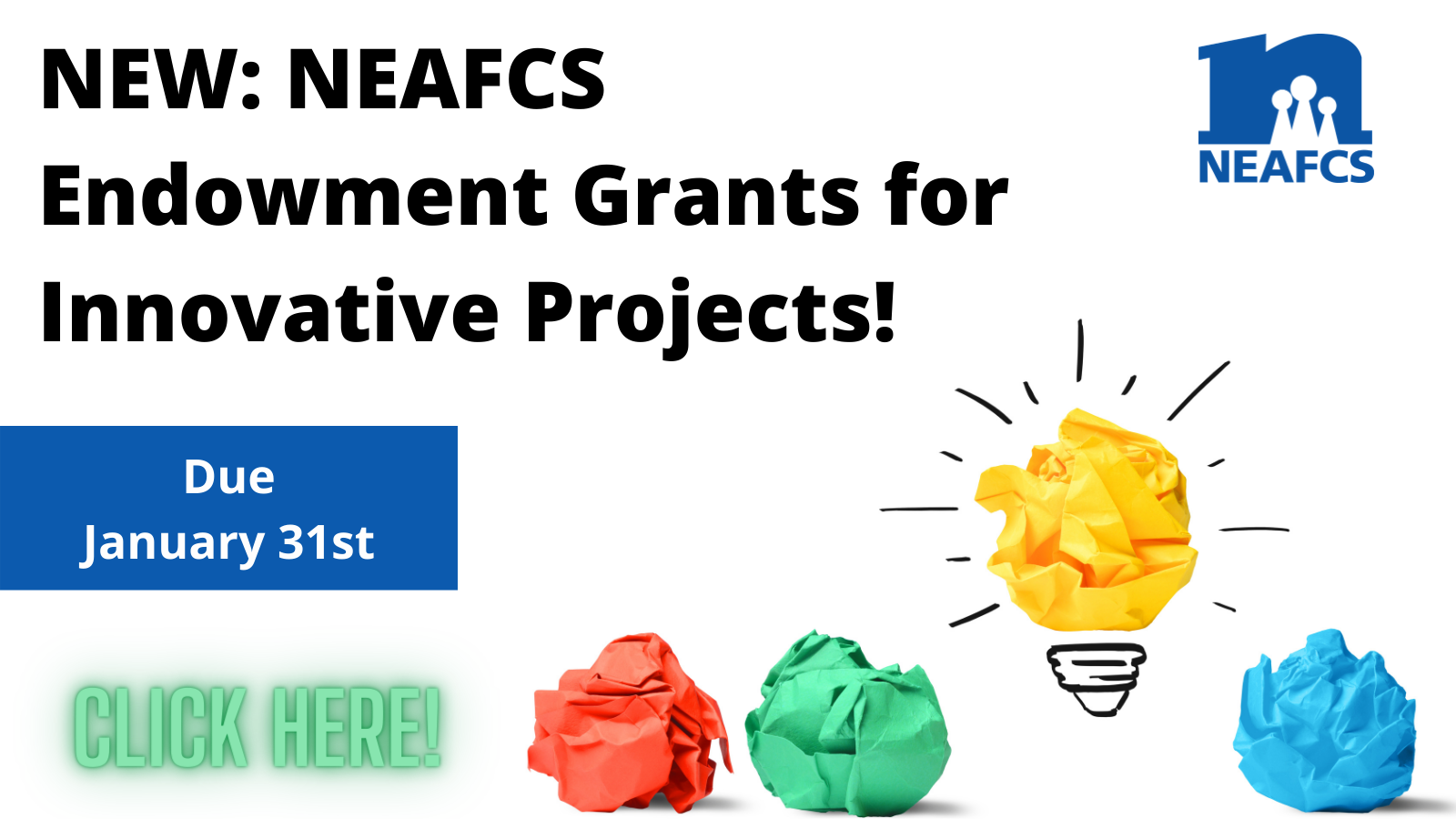 President's Message
Dianne Gertson (TX) President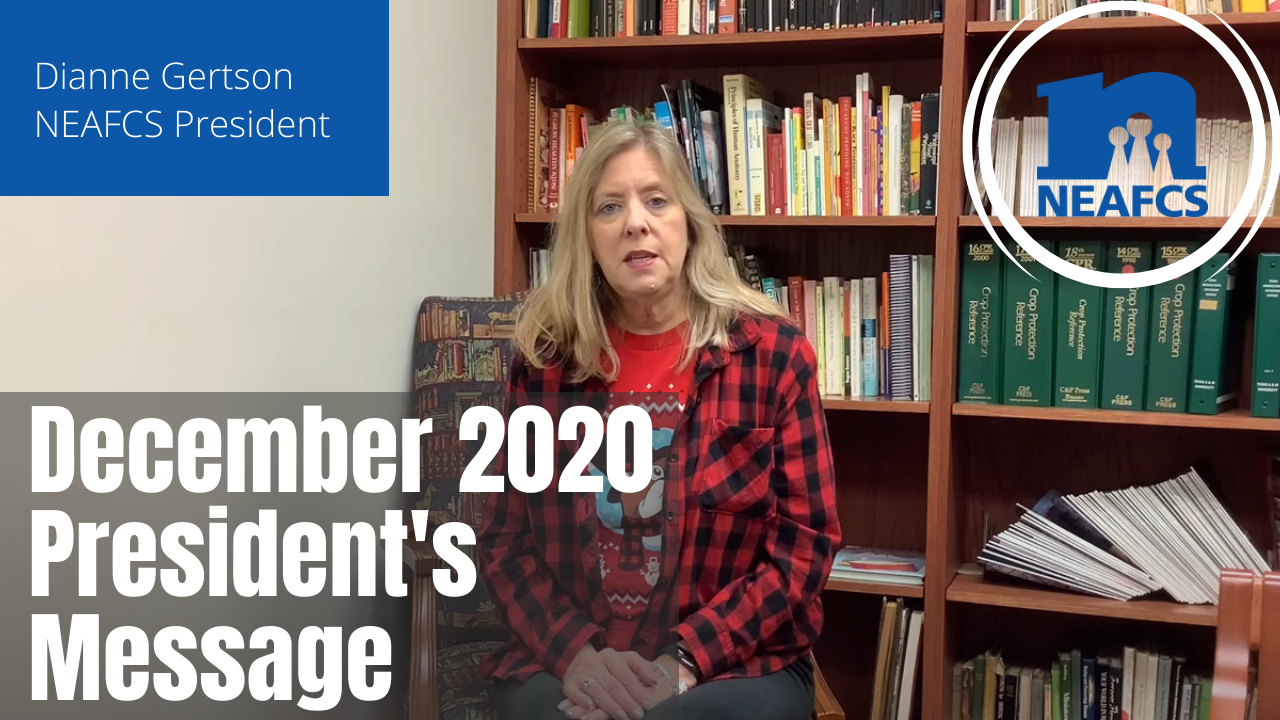 Please click the image above to view this month's President's Message
The first 5 people to email me with the location of the icon will be entered into a drawing for a free registration to the 2021 NEAFCS Annual Session. 
---
Awards and Recognition Highlights
Julie Garden-Robinson (ND), Vice President of Awards and Recognition
Please check out the updated "Awards Manual" and "Awards at a Glance." Both documents have an attractive new format! I thank Will Ferguson at the National Office for his excellent design work. I also appreciate the leaders and members of the Awards and Recognition subcommittees for their work in preparing action plans.  Read More

---
National Nominating Committee
Chelsey Byers (IL), National Nominating Committee Member
The nominating committee is starting to identify candidates for the positions that will be voted on at Annual Session next November in Grand Rapids, Michigan. We are currently seeking candidates for the following positions: Read More
---
A Look at Illiteracy and Diversity
Jane Henderson (VA), Diversity Sub-Committee
Webster's Dictionary defines diversity as "the condition of having or being composed of differing elements: the inclusion of different types of people..." Each of us has had diverse life experiences that have shaped our thoughts, actions, and biases.  Read More

---
Professional Development Update: Proposals, Webinars, Opportunities and more!
Patricia Brinkman (OH), Vice President of Professional Development
Submit your proposal now for the 2021 Annual Session next November in Grand Rapids, MI.  The system opened on December 1 and is ready for your proposal.  The Program subcommittee co-chairs Chris Kendle and Karla Belzer are doing a webinar on how to fill out a proposal for the 2021 Annual Session on December 10 at 1 pm Eastern time. Read More
---
IMPACT STATEMENTS!
Mary Liz Wright (IL), Vice President of Public Affairs
It's that time of year—falalala—deck the halls---no not that time of year---it's time to think about Impact Statements. Actually, the timing of this request is perfect—many of us are completing our year end reports and calculating our own personal impacts—please share your data with your Affiliate VP of Public Affairs so that they can submit the affiliate data to me. Read More
---
State Affiliate Awards Submission Deadlines
Diane Reinhold (IL), Awards Training Subcommittee, Member
Deadlines. Some people love them, while others view them as merely necessary to help keep things running smoothly. Whatever your perspective, it is essential to understand the different types of deadlines you may be dealing with when applying for awards. Read More
---
Meet the Board
Kate Shumaker (OH), Secretary
Hello to my NEAFCS extended family!  One of the things I love about NEAFCS is the connections we create.  Yes, we can be professional and call it networking, but it is really creating a connection with another person. Read More
---
Planning for Grand Rapids in 2021!
Courtney Aldrich (MI), Annual Session Planning Committee Co-liaison
Hello from Michigan, NEAFCS friends and colleagues!  My name is Courtney Aldrich and I serve as a Michigan Regional Co-chair and a Co-liasion for the NEAFCS Annual Session planning committee.  We are getting excited about the possibilities for hosting the conference on November 2-5, 2021 in Grand Rapids!  Read More

---
Embracing and Celebrating All Families
Laura Stanton (OH), Diversity Subcommittee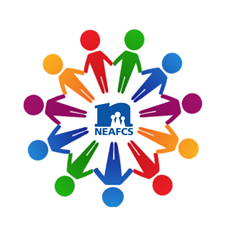 If you were asked to picture a family, what would you see? Many of us might picture a nuclear family that consists of two, married, heterosexual, adults with at least one child. However, this type of family accounts for approximately 20% of American families.  Read More

---
Become a Proposal Reviewer!
Shannon Carter (OH), Program Development Committee
Become a reviewer?! But I've never even been a presenter!  Exactly . . . you can become a reviewer even if you have not been a presenter for NEAFCS. The Professional Development committee will provide you with all you need to know.  Read More
---
Calling All Members!  Get in the Spotlight!
Kate Shumaker (OH), Secretary
Have you noticed the Member Spotlight videos in past issues of the NEAFCS Network?  You could be the next one featured!  Tell us what NEAFCS means to you! Read More
Direct Link to SignUpGenius Form: https://www.signupgenius.com/go/9040e4ba9aa2da20-neafcs
---
A Personal Story
Laura Stanton (OH) and Donna Donald (IA), NEAFCS Members
Laura Stanton reached out to us here at the National Office with this story to share just after our first ever Virtual Annual Session was held: I have a pretty incredible story that I wanted to share. It's a bit long but I hope you will take the time to read it. Read More
---
Award Winning Programming from NEAFCS Members
Communications Awards - Newsletters
1st Place National Winner - Kathy Brandt & Team, Minnesota

"Cottage Food Connection eNews for Minnesota Cottage Food Producers"

Published quarterly, the Cottage Food Connection eNews was established as a means to communicate, update and engage with Minnesota's growing cottage food industry, now over 4,100 registered cottage food producers. 

Team Members: Suzanne Driessen
File 1, File 2, File 3

---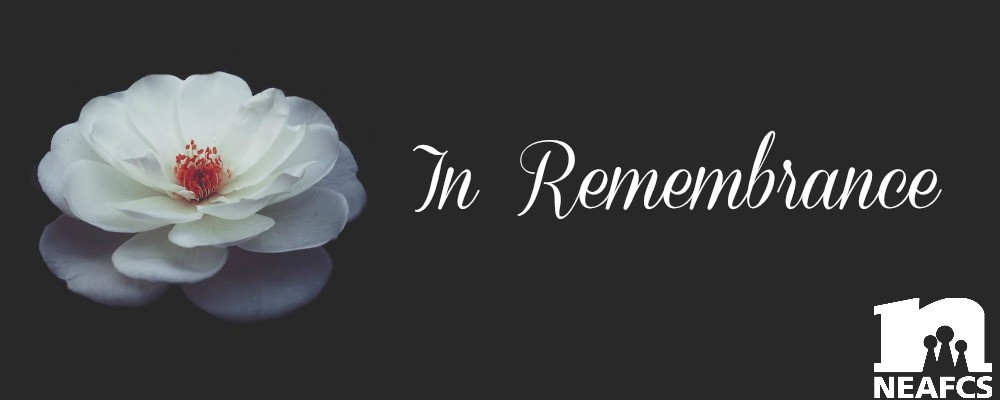 Future issues of the NEAFCS Network will include recognition of members who have passed. If you would like to report the death of a NEAFCS member, please click here.
Margaret Gayler (GA), Life Member
Ruth Johnson (IL), Life Member
Mary McCoy (VA), Life Member
Dorothy "Dottie" Goss (OK), Life Member