Meet the Board
Alexandra Grenci (NJ), Eastern Region Director

Greetings from the Garden State of New Jersey!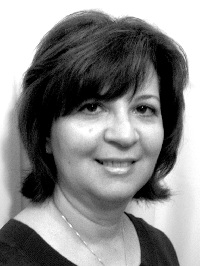 My name is Alexandra Grenci, but most folks call me Sandra, and I am in my first year as Eastern Region Director. I am from New Jersey, and consider myself a Jersey Girl through and through! I was born in the big city of Newark but have lived in more suburban Somerset County (Branchburg) for the last 30 years with my husband Tom. We have two daughters in their 20's and three cats, which is way too many (cats, not daughters!).

I am a second career Registered Dietitian. I spent my first career working in the field of environmental science, but I always had a love for medicine, nutrition and health sciences. About a decade ago I went back to school to pursue dietetics and then practiced as a Certified Diabetes Educator at a community hospital, before coming to Rutgers Cooperative Extension. I have been working as Family & Community Health Sciences Educator for RCE based in Hunterdon County, where I am in my 7th year. That's hard to believe, because it seems like just yesterday and a million years, all at the same time! I love the diversity in my job as an Extension Educator. My position allows me to interact with consumers of all ages in the areas of nutrition education, chronic disease prevention, and health promotion. It's so rewarding, and also a privilege, to have the trust of consumers in matters regarding their health and wellness. I am sure many of you feel the same way!

We are a small but unified Affiliate in NJ, and I have come up the leadership ranks, learning a lot about Extension along the way. I attended PILD and JCEP during my leadership terms and would recommend both of these conferences as great ways to not only get a better understand of our own professional organization, but also for the 'big picture' of the Cooperative Extension system. I am looking forward to continuing to learn about Extension, and to meeting many of you during my term as Eastern Region Director!