Evolution of the Newsletter
We have a new Feature in this issue! Please make sure to see our new "In Remembrance" section. You can send Obituaries to [email protected] for inclusion in future issues.
As you have hopefully noted, we have taken your feedback about how to improve the NEAFCS Network and made some changes. We will continue to do so as we move forward. Keep those ideas and tips coming to President Roxie Price to help us improve!
---
Important Dates
National Office Candidate Application Deadline
May 15, 2020
NEAFCS Annual Session Hotel Block Deadline
August 13, 2020
NEAFCS 2020 Annual Session
September 14-17, 2020
Snowbird Resort, UT 
NEAFCS 2021 Annual Session
November 2 - 5, 2021
Amway Grand, Grand Rapids, MI
NEAFCS 2022 Annual Session
September 12 - 15, 2022
Marriott City Center & Sheraton Raleigh, Raleigh, NC
---
Mountain Icon made by Freepik from www.flaticon.com
President's Message
Roxie Price (GA), President  
Please click the image below to view this month's President's Message from Roxie Price.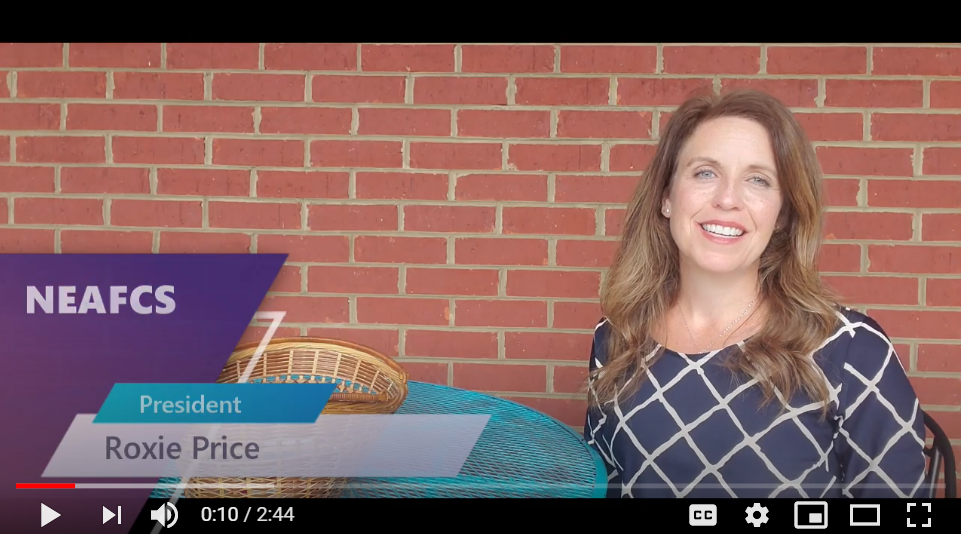 The first 5 people to email me with the location of the icon, and a tip on how to enhance this newsletter, will be entered into a drawing for a free registration to the 2020 NEAFCS annual conference in Snowbird, Utah. 
---
Deadline Extended: NEAFCS Hall of Fame Nominations
Jessica Trussell (MO), Secretary 

The NEAFCS Hall of Fame was established in 2019 to recognize an outstanding NEAFCS member/s who has contributed their time, talent and/or treasure to the NEAFCS. Read More
---
Member Spotlight Video
Amy Bartels (MO), Missouri President-Elect
Please click the image below to view this month's Member Spotlight Video featuring Amy Bartels from Missouri.
---
PILD Reflections
Mary Liz Wright (IL), Vice President Public Affairs

"Moving Knowledge into Solutions" was the theme for PILD 2020 and it could not have been more appropriately named! The JCEP committee, led by our own Past President Karen Munden, worked diligently and moved the conference to an online format in a matter of days! Read More
---
Keeping Current With Our Life Members
Cindy Schlenker Davis (NM), Vice President Member Resources
If you are a Life Member, you will be receiving a postcard asking you to update your contact information for NEAFCS.
We realize people move and get new email addresses we would like to keep our records current! Read More
---
Top Teasers for Attending NEAFCS Annual Session in 2020
Kathy Riggs (UT), Annual Session 2020 Tri-liaison
We look forward to seeing you in at the 2020 Annual Session where you will definitely "Experience Life Elevated" - Consider these top teasers for why you will want to meet us at Snowbird! Read More
---
Awards - Take a Second or Third Look
John Fuller (MO), Awards Subcommittee Member
The awards committee would like to thank everyone who submitted an award this year.  These applications show the great work going on around the country, and the awards committee always is looking for ways to improve the system. Read More
---
Diversity In Our New Normal
Beatriz G. Favela (NM), Diversity Subcommittee Member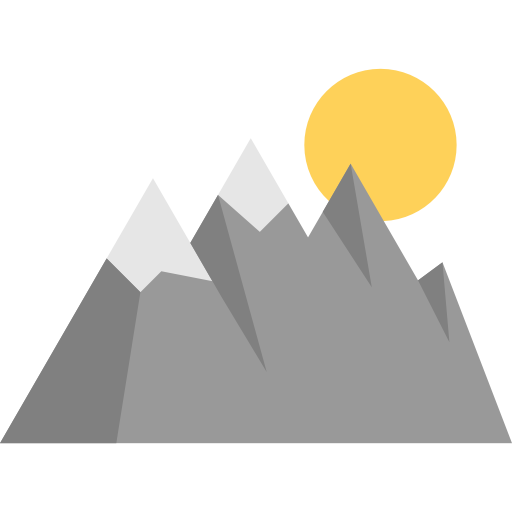 What a time to talk about diversity!  As we continue to adjust to these challenging times due to COVID-19, extension agents have been busy brainstorming and thinking outside the box to take care of our clientele. 
Read More
---
Don't Miss the AAFCS Virtual Conference - June 25-26, 2020

AAFCS President, Jackie Ogden, CFCS and NEAFCS member invites all professionals, students, thought-leaders and change-makers to connect with peers across the nation for the first-ever AAFCS Virtual Conference! Read More
---
Southern Region Update
Lorrie Coop (TX), Southern Region Director
Please click the image below to view the video from our Southern Region Director Lorrie Coop!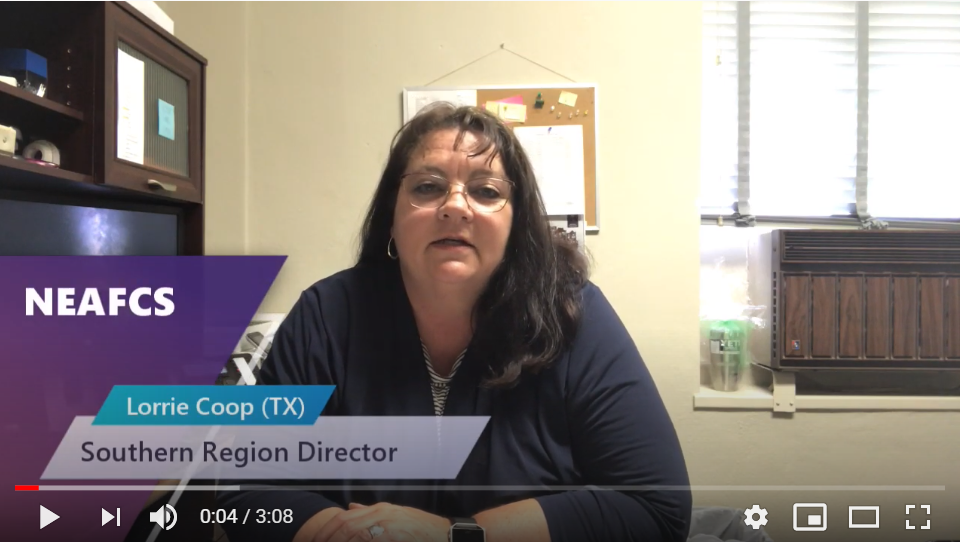 ---
85th Anniversary - Missouri & Montana Affiliates
Debby Mathews, (AL) 85th Anniversary Chairman  
One glorious aspect of a national organization is the variety of ways its members approach project implementation. For example, to celebrate our 85th Anniversary, Missouri completed 25 of the 85 Ways to Celebrate. Way to go! Montana found an FCS trivia game using response clickers to be a fun approach to delving into our fascinating past. Read More
---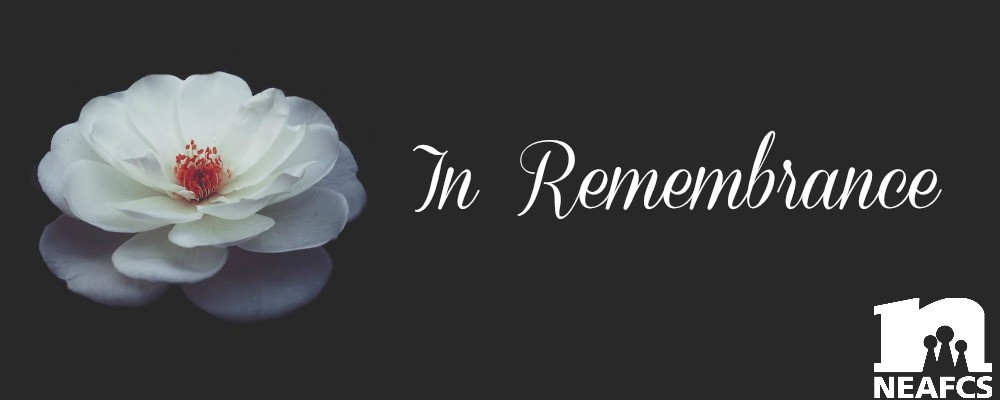 Future issues of the NEAFCS Network will include recognition of members who have passed. If you would like to report the death of a NEAFCS member, please click here.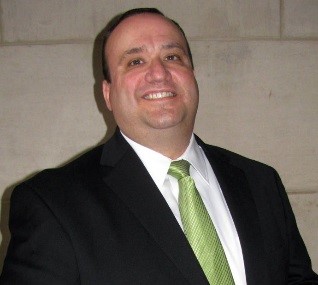 William (Bill) Viar (IN)
Bill Viar from American Income Life passed away on April 17.  Bill was such a kind soul and was always in the NEAFCS Exhibit Hall with the American Income Life Booth.  In 2015 he was presented the Friend of NEAFCS Award at The Greenbriar. For more information on Bill, please visit https://flannerbuchanan.com/obit/william-bill-viar/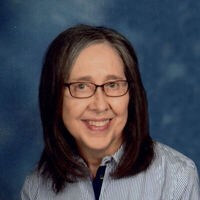 Joycelyn Moody (NE)
Joycelyn Moody, 72, of Pender, NE, passed away May 10, 2020. She graduated from Pender High School in 1966, and graduated from the University of Nebraska with a Bachelor's of Science degree in Home Economics. Joycelyn worked as a Home Economist for the University of Nebraska. For more information on Joycelyn, including a celebration video, please visit https://www.munderlohfuneralhome.com/obituary/joycelyn-moody