Meet The Board
Debby Mathews (AL), VP Public Affairs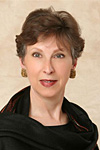 I'm so glad I was assigned the month of June to write this article! That is because it's my Extension anniversary month. June 18 I will complete my twenty-ninth year with Extension. The good news is that I enjoy my work now more than ever, and I'm certain that many of you share that sentiment. I am the Extension coordinator and I have two nutrition agent assistants, an administrative associate and a bunch of regional agents who provide service to the 15,000 people living in our county.

All my years with Extension have been in service to one county, Cleburne County. It's a beautiful area in Northeast Alabama, and it is rich in natural resources. One of those resources is the Talladega National Forest. My husband, Jake, and I live adjacent to this forest on a forty acre parcel of land. As children of registered foresters, it's really neat that we live where we do. We both grew up with an innate love of the woods, and now we spend lots of time taming our share of it! Our favorite project is one we call "free the oak leaf hydrangeas".

Jake and I are both Auburn alums, but we met at The University of Alabama. If you know much about football in our state and the rivalry between those schools, you will know that is unusual! We have two daughters who are both graduates of The University of Alabama. Jeanette is a registered nurse, and Virginia is a registered dietitian. Both are married, and both have been fruitful this year! In February Jeanette and her husband adopted an infant and named him Lucas Mathew Griffey. That same month Virginia and her husband learned they were expecting a baby in October. We went from having no grandchildren to having one and having another on the way in a short span of time! What a rush!

When Jake and I are not being proud grandparents or working on our land, we both enjoy being on stage with our regional community theater. Too, I enjoy singing with our church choir and with a group called Heartnotes. Next month both groups I sing with will have a patriotic concert. Heartnotes will sing Boogie Woogie Bugle Boy, Mister Sandman and Chattanooga Choo-Choo as part of a WWII tribute. What fun! I have music running in my head often!

I hope to see many of you in Pittsburgh for Galaxy in September. I've never been there and everything I see or read about it sounds enticing! Jake and I look forward to seeing you there.