Excellence in Diversity, Equity, and Inclusion Scholarship (EDEIS 2020)
In an effort to provide more diversity-related professional development concurrent sessions as well as increase diverse representation among members attending the NEAFCS Annual Session, the Diversity Subcommittee has formed a scholarship opportunity for members presenting diversity-related concurrent sessions at the NEAFCS Annual Session. In the inaugural year, up to 4 scholarships of $250 will be awarded to NEAFCS members. 
All NEAFCS members accepted as presenters of diversity-related concurrent sessions are welcome to apply. Preference will be given to members of racial/ethnic minority groups, individuals of the LGBTQIA+ Community, persons with disabilities, and faculty/staff of 1890 land-grant Extension programs. 
This scholarship may only cover NEAFCS annual session fees. This scholarship is for current NEAFCS members only. One scholarship per concurrent session will be awarded; presenters are responsible for appropriate distribution of funding among their presentation team. 
Application opens March 15
Deadline to apply March 31
Scholarship recipients will be notified no later than May 15
Donations:
2020 has been a tumultuous year. Given the recent events in our country, the topic of diversity is as important as ever. With increasing divisiveness, it can be hard to separate facts from emotion and opinion. Ignorance breeds fear. Fear breeds hatred. Hatred breeds destruction. FCS professionals should be advocates for the deepest meaning of our mission. In an effort to increase knowledge on diversity, presented by diverse members of NEAFCS, we launch this campaign to be able to offer the Excellence in Diversity, Equity, & Inclusion Scholarship.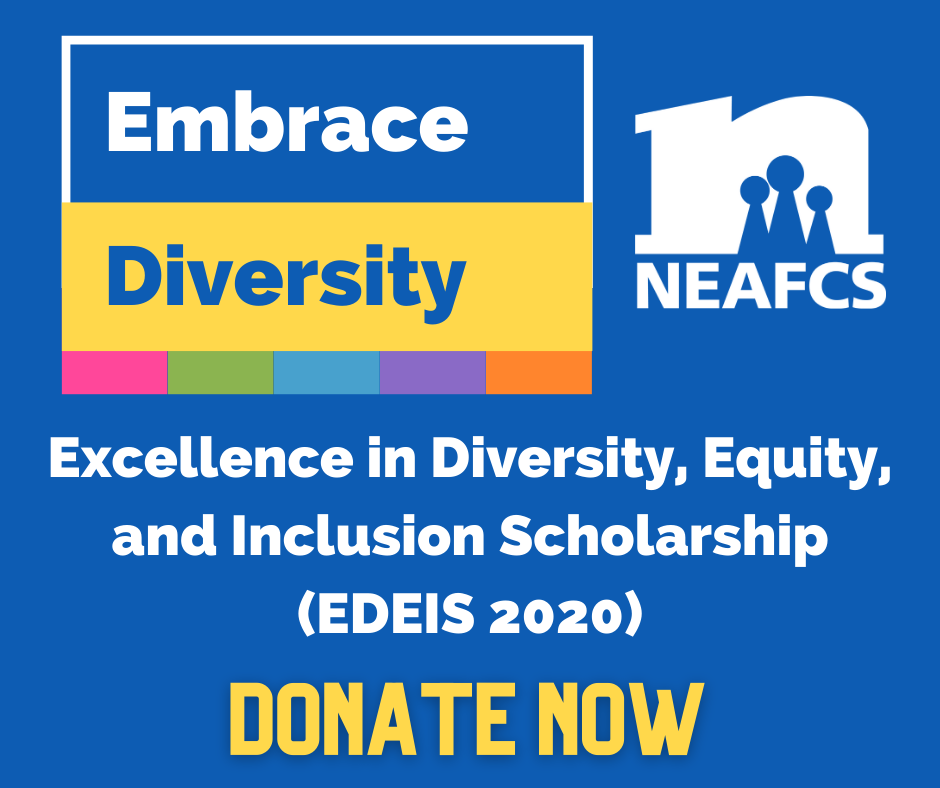 If you would like to donate, please use this form. 
---
The Diversity Subcommittee has also created new and updated resources for diversity, equity, and inclusion as well as working with diverse groups. Links to these resources are below:
Diversity Resources — Useful websites containing diversity information and curriculum.
Resources in Spanish - A list of resources on nutrition, agriculture, and other areas, all prepared in Spanish.
Resources to Support Black Lives
Resources for Native American Communities
Resources for Asian Communities
Resources About Developmental Disabilities and Special Needs