Important Dates
NEAFCS Connecting with Colleagues - Working with Underserved Audiences
July 16, 2021 at Noon (Eastern)
Webinar: Embracing the Power of Prevention
July 21, 2021 at 3:00 PM (Eastern)
AHA Healthy for Life Grant® Application Open
Deadline: August 20, 2021
NEAFCS 2021 Annual Session
November 2 - 5, 2021
Amway Grand, Grand Rapids, MI
2022 Grants for Innovative Projects 
Deadline: January 31, 2022
NEAFCS 2022 Annual Session
September 12 - 15, 2022
Marriott City Center & Sheraton Raleigh, Raleigh, NC
---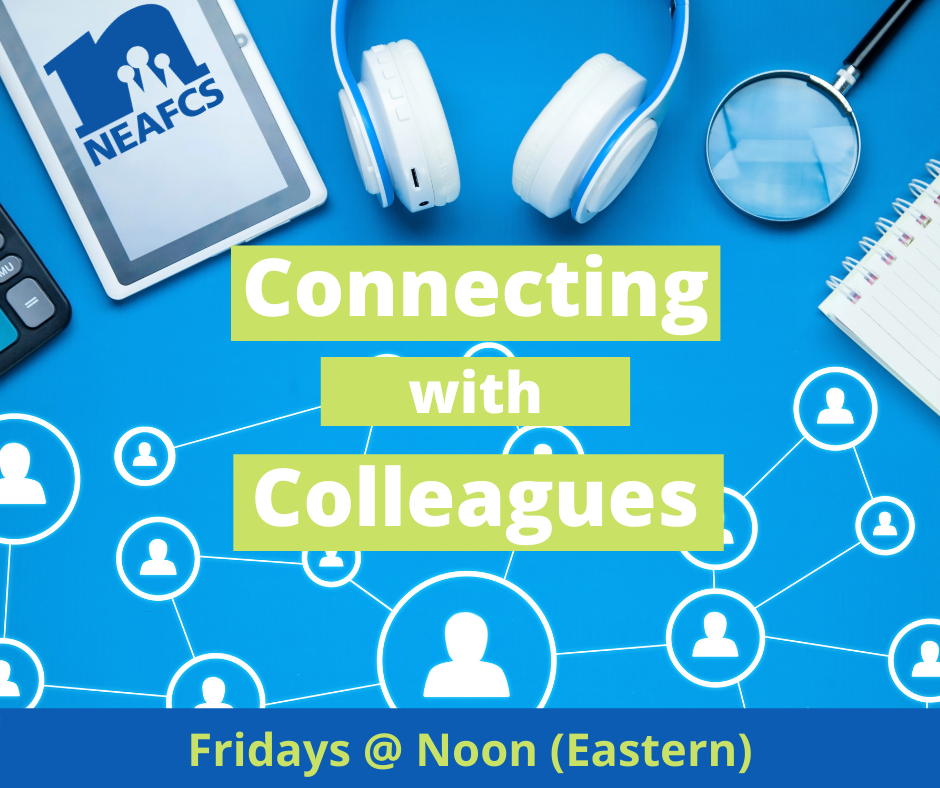 ---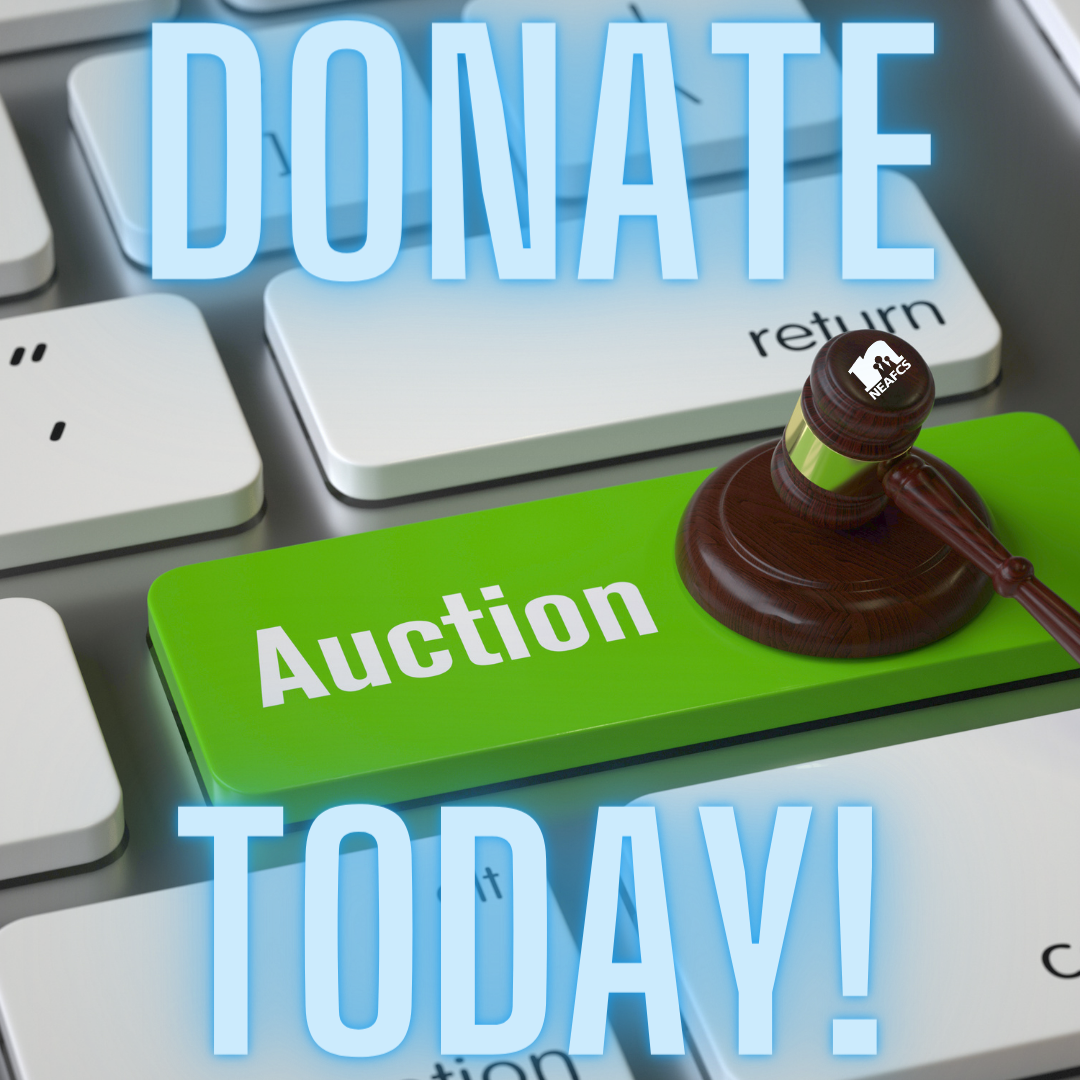 ---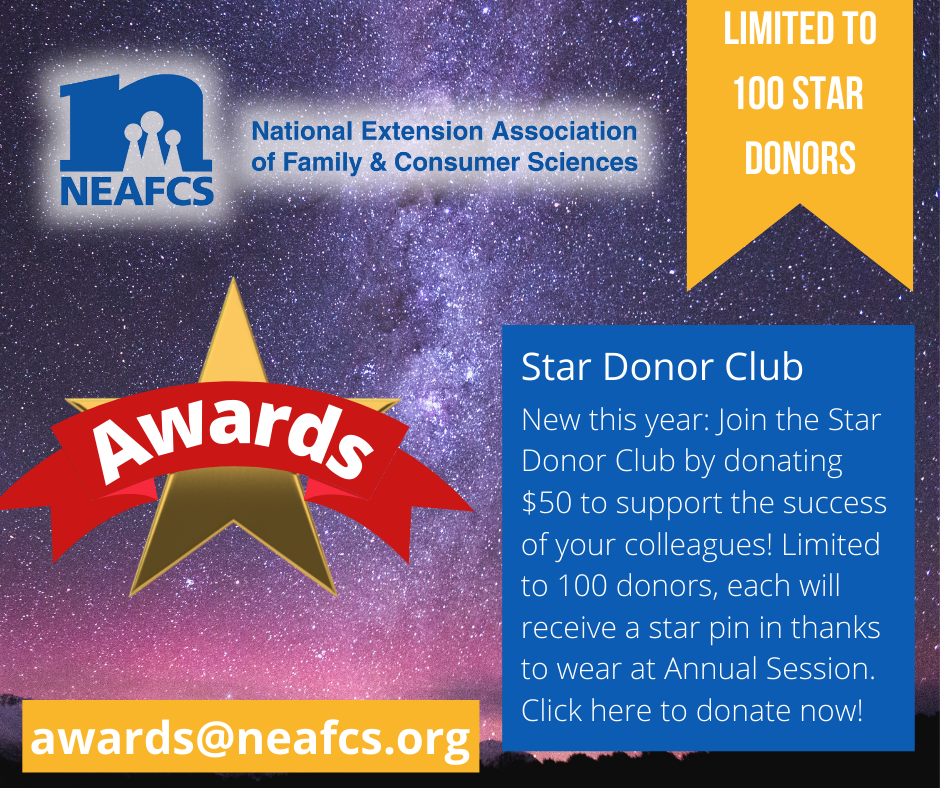 ---
$65K IN GRANTS AVAILABLE 
Do you want to create lasting impact on community health?
Are you already disrupting the status quo with your community-led solution?
Are you seeking funding, resources and collaboration?
Now in its fifth cycle, the EmPOWERED to Serve Business Accelerator has already trained 45 entrepreneurs and funded $560,000 in grants bringing healthy fruits and vegetables to food deserts, improving the quality of education through increasing opportunities for STEM, making communities safer, and teaching people to be better advocates of their own health and improving blood pressure.
Applications will be accepted May 3 through July 16, 2021.
Entrepreneurs and nonprofit leaders from diverse backgrounds are encouraged to apply because no one knows more about the changes needed in a community than the members themselves.
Learn more by clicking here.
President's Message
Dianne Gertson (TX), President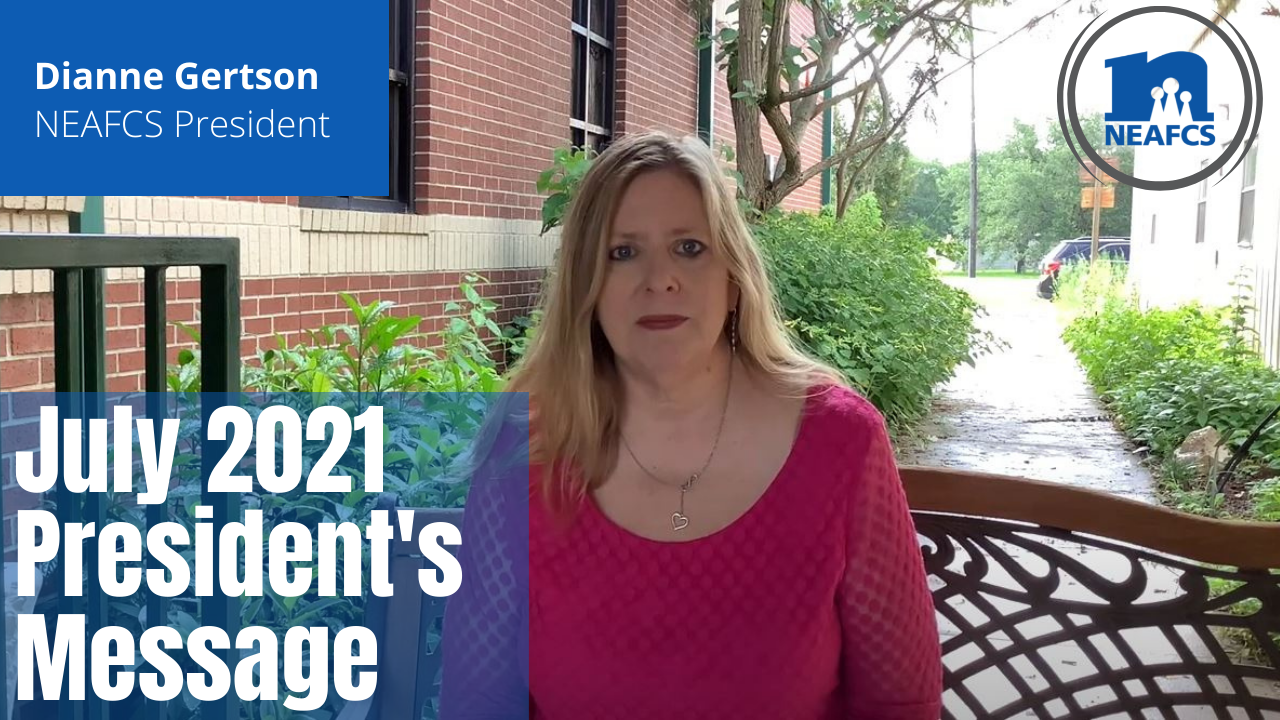 Please click the image above to view this month's President's Message
The first 5 people to email me with the location of the icon will be entered into a drawing for a free registration to the 2021 NEAFCS Annual Session. 
---
Strategic Planning, Begin with the End in Mind
Roxie Price (GA), Immediate Past President
Start now and develop a strategic plan for your professional development experience during our annual conference in Michigan. Think about your intentions. What would you like to get out of the conference?  Read More
---
$21 or more in 2021 to the NEAFCS Endowment 
Help support the President's Charity by joining members in donating $21 or more in 2021 to the NEAFCS Endowment.  The interest from the NEAFCS Endowment Fund will provide stable, continuing resources for targeted projects such as awards and fellowships, marketing efforts or public issues education. Help us reach our goal of $21,000. Read More 
---
NEAFCS Awards Scholarships and RSVP Process
Julie Garden-Robinson (ND), Vice President of Awards and Recognition
Congratulations again to all the 2021 regional and national NEAFCS award winners. Every applicant was informed on the status of their entry this past spring, along with comments from the judges. The four NEAFCS regional directors have received a listing of their region's award winners, and your state's Vice President of Awards and Recognition also received a listing of your state's award recipients.  Read More 
---
Grand Rapids here we come! 
Pat Brinkman (OH), Vice President of Professional Development
Grand Rapids here we come!  I can't wait until Grand Rapids!  I know our Michigan affiliate has been busy planning and preparing for us.  The Amway Grand Plaza Hotel is recognized as one of the finest historic hotels across America. NEAFCS will also utilize space at the DeVos Place Convention Center, connected to the Amway Grand Plaza Hotel by a climate-controlled skywalk.   Read More
---
Extra! Extra! Read all about it!!! Annual Session is in the air!
Michelle Wright (TX), Vice President of Member Resources
Extra! Extra! Read all about it!!! Annual Session is in the air! The moment we all have been waiting for has arrived. Early-bird registration is in full swing and our sights are set on Michigan! The question is… have YOU registered?  Read More
---
Grand Rapids Attractions for NEAFCS 2021 Conference
Erin E. Powell (MI), 2021 Annual Session Planning Committee Member
We've all been stuck in the house for way too long.  When you come to Michigan for the NEAFCS 2021 conference, Grand Rapids offers many activities to make up for the last year at home! We know if you're able to attend in person, you'll find many activities to occupy your time outside of the conference. Read More
---
Be a Star
Melissa Rupp (OH), Sponsorship and Support Subcommittee Chair
When we elevate the quality of our common mission, we all succeed. Help us raise the bar of excellence by supporting our colleagues and friends through awards sponsorship and support.  We invite you to "Be a Star", a new sponsorship framework, or dare I say constellation, for supporting our NEAFCS annual session awards.   Read More
---
Central Region Update
Vanessa Hoines (ND), Central Region Director
Greetings from the Central Region!  It's time to register for Annual Session.  Members of Michigan and the central region affiliates are anxious to greet you in Grand Rapids.  You won't want to miss it. Read More 
---
Celebrate Diversity!
Diana Romano (OK), Diversity Subcommittee Member
Multicultural Diversity celebrates the diverse cultures that contribute to America's heritage. Nowadays we have more opportunities to learn about different backgrounds, countries, experiences, languages, and cultures. To increase your knowledge of diverse cultures, you can do some of these: learn a new language, browse the internet, talk with a friend, coworker, or neighbor, take folk dance classes or search for videos online, read a book about it, visit local ethnic markets and restaurants, listen to music from different countries, and cook recipes from different countries.  Read More
---
Western Region Update
Rick Griffiths (NM), Western Region Director
The western region held a Zoom Leadership meeting in July. At the meeting, options for Annual Session were discussed as well as what the Affiliate Presidents saw as the needs of the region.  Read More
---
Meet the Board
Vanessa Hoines (ND), Central Region Director
Greetings from sunny North Dakota!  I am Vanessa Hoines and am honored to serve as your Central Region Director.  My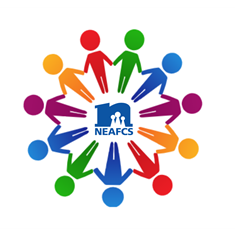 involvement through NEAFCS has led to tremendous growth for me professionally, from attending several Annual Sessions to PILD to connecting with the network of friends and colleagues across the states.  Read More
---
21 tips for '21
Pat Brinkman (OH), Vice President of Professional Development
As I began to think about tips, I immediately thought of eating healthy and be physically active as that is what I have been teaching for years and try to practice. But I decided to share some others.  Read More
---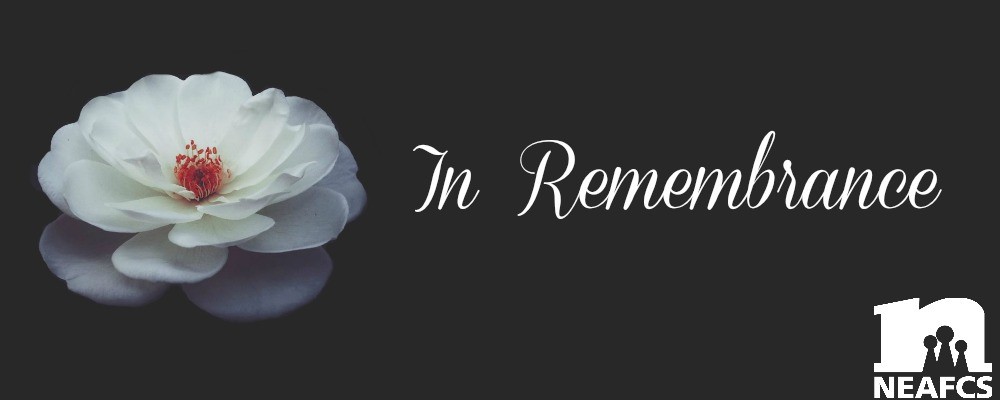 Future issues of the NEAFCS Network will include recognition of members who have passed. If you would like to report the death of a NEAFCS member, please click here.