JCEP Public Issues Leadership Development (PILD) Conference Call for Proposals *Did you know? All NEAFCS members are also members of JCEP! 
JCEP ELC Scholarships - opening soon!
PILD First Timer Scholarships - opening Mid-December
Impact Statement Reports - opening December 1
2021 Annual Session Call for Proposals Portal - opening December 1
Journal of NEAFCS Submissions - opening mid-November 
2021 Awards Submission Portal Open
December 1, 2020 - March 15, 2021
Webinar: Submitting a 2021 NEAFCS Annual Session Proposal
December 10, 2020 at 1:00 PM Eastern Time
NEAFCS Member Renewals Due at National HQ
December 31, 2020
Webinar: Coffee Time: Exploring Health Benefits and Cautions
March 16, 2021
3:00 PM Eastern Time
National Extension Conference on Volunteerism (NECV)
April 26-29, 2021
Hard Rock Hotel and Conference Center in Tulsa, OK 
2021 Public Issues Leadership Development Conference (PILD)
April 11-14, 2021
Hyatt Regency Hotel Crystal City, Arlington, VA 
NEAFCS 2021 Annual Session
November 2 - 5, 2021
Amway Grand, Grand Rapids, MI
NEAFCS 2022 Annual Session
September 12 - 15, 2022
Marriott City Center & Sheraton Raleigh, Raleigh, NC
---
President's Message
Dianne Gertson (TX) President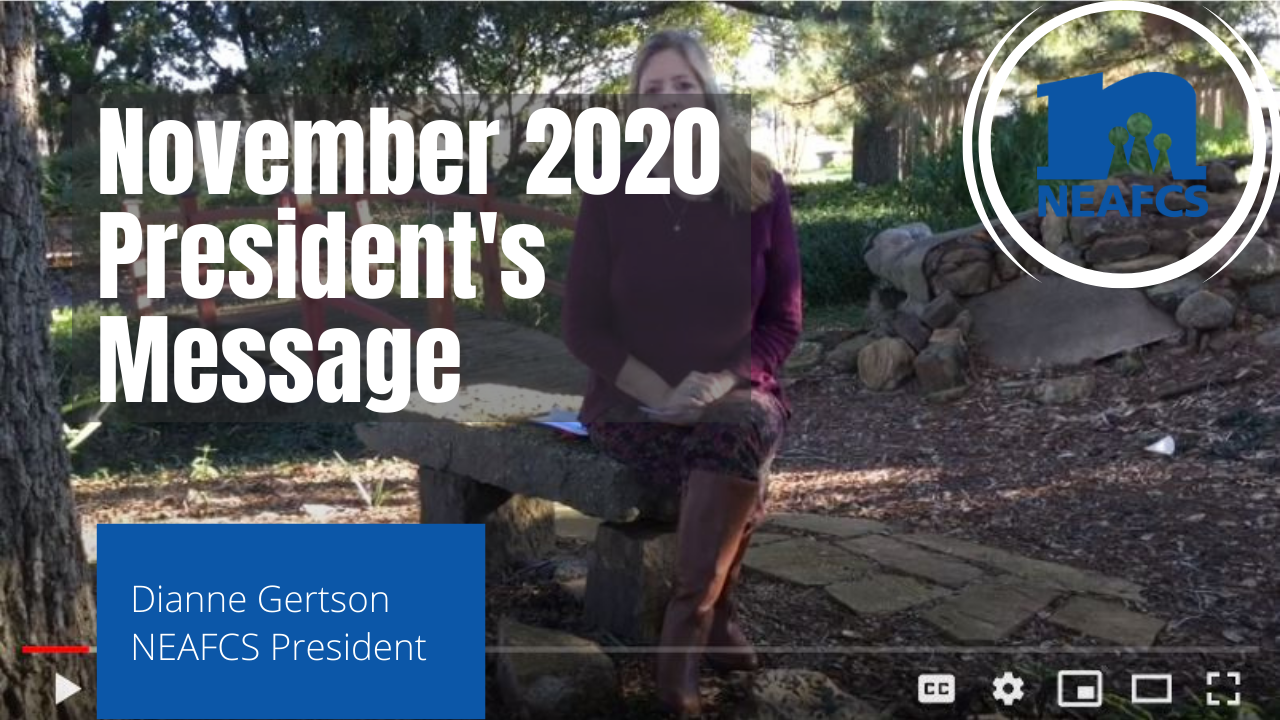 Please click the image above to view this month's President's Message
The first 5 people to email me with the location of the icon will be entered into a drawing for a free registration to the 2021 NEAFCS annual conference. 
---
Renew Your Membership!
Barbara Wollan (IA), Treasurer
Your affiliate Treasurer and/or your membership chair has likely reminded you sometime recently that now is the time to renew your NEAFCS membership, and I want to add my two cents to that reminder. First of all, the process is easy – simply log in to the NEAFCS website, find "Dues Renewal" under the Member Resources tab and make any needed updates to your member profile.  Read More 
---
New Grant Process from the NEAFCS Endowment Committee
Marsha Lockard (ID), and Mary Ann Leinhart-Cross (IN), Endowment Committee Chairs
The NEAFCS Endowment Committee is excited to announce a new grant application process that will open in early December! Any affiliate, committee, or group of two or more NEAFCS members is invited to apply for funding to support an innovative project which promotes the profession of Family and Consumer Sciences in one or more of the designated areas of: Leadership/Professional Development, Awards & Recognition, Public Issues, or Diversity. It is anticipated that most proposals will fall in the range of $300-$3,000, but proposals of any size will be accepted for consideration. Read More 
---
Public Affairs Committees Working Hard to Promote Our Profession
Mary Liz Wright (IL), Vice President for Public Affairs
The Public Affairs committees have been busy!  If you are a returning committee member or if you are interested in helping us with what we do please join—it's so easy, just visit the online form!  Read More
---
Program Development Committee: It's Never Too Early to Draft Your Proposal
Pat Brinkman (OH), Vice President for Professional Development
The Webinar Subcommittee met virtually to work on their plan of work. We would like to have at least one webinar a month for our members.  If you have a topic to share or have a state specialist or someone who would provide an informative, interesting, and research-based presentation please encourage them to apply. Read More
Webinar Proposal Submission Form Direct Link
---
NIFA Welcomes New Family and Consumer Sciences Division Director
Dr. Suzanne Stluka joined NIFA as the Division Director for the Division of Family and Consumer Sciences and she will also lead the Division of Youth and 4-H in the Institute of Youth, Family, and Community. Prior to joining NIFA, Dr. Stluka served as the Associate Director at Montana State University Extension and served in several leadership roles at South Dakota State University Extension for 13 years. Read More 
---
Awards and Recognition: Highlighting 2020 and Looking Toward 2021
Julie Garden-Robinson (ND), Vice President for Awards and Recognition
As we continue to celebrate NEAFCS members' accomplishments, we hope you are enjoying the NEAFCS Facebook highlights showing 2020 award winners. As we gear up for the 2021 awards program, please note that the awards manual goes "live" on December 1.  Read More 

---
See you in Grand Rapids, Michigan!
Georgina Perry (MI), Annual Session Planning Committee Co-liaison
Greetings from Michigan fellow NEAFCS Members.  My name is Georgina Perry, and I serve as Michigan President and a co-liaison for the NEAFCS 2021 Annual Session planning committee.  It brings me great joy and excitement to invite you to attend NEAFCS 2021, November 2-5, in Grand Rapids, Michigan, which happens to be my hometown!   Read More  
---
Member Spotlight Video

Click the image below to view the member spotlight this month.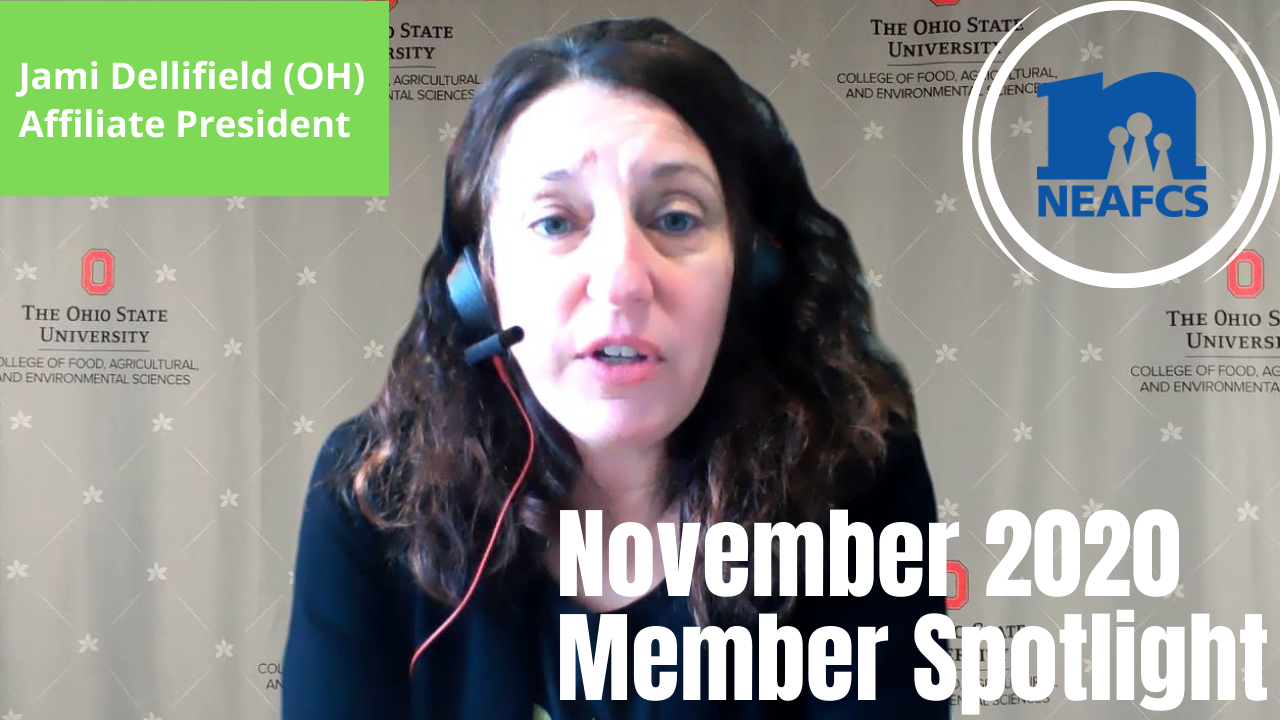 ---
NEAFCS Annual Silent Auction – Virtual, Valuable, and Vital
Melissa Wyatt (AZ), Awards Sponsorship and Support Committee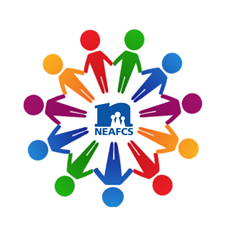 This year was the first time NEAFCS offered a Silent Auction virtually. While we missed seeing you in person, we did a have a great auction. This was a successful first Silent Auction.  Read More
---
JCEP Extension Leadership Conference & First Timer Scholarship Application
Will Ferguson (FL), NEAFCS Staff
The JCEP Extension Leadership Conference will be held February 10-12, 2021. Due to the pandemic, budgetary issues, and travel restrictions, the 2021 JCEP ELC will be a virtual conference. Because they are still finalizing the meeting in a virtual format, registration for JCEP ELC will not open until late November. Read More
---
The NEAFCS Professional Development Committee is gearing up for the 2021 Webinar presentations – are you?
Chelsey Byers (IL), Professional Development Committee Member 
Maybe you are feeling all zoomed out, and we feel you.  However, we hope you will remember that one of the great benefits of being a NEAFCS member are the professional development webinars. These webinars are a wealth of information on a variety of topics. Read More
---
Planning for PILD 2021
Mary Liz Wright (IL), Vice President for Public Affairs 
The PILD Planning Committee is seeking abstracts from Extension Professionals who have demonstrated to local, state, or national decision makers the impact of Extension's response to critical public issues such as COVID19 and natural disasters.   "How did you communicate the actions, impacts, and results of your program to decision makers?" "How did you build buy in from community leaders?" "What tools did you use to share your program's successes and how did that result in increased support from the Land Grant Univeristy, county, region, or state?" Read More
---
Meet the Board
Susan Routh (OK), President-Elect
One of Winston Churchill's famous quotes is "A pessimist sees the difficulty in every opportunity while the optimist sees the opportunity in every difficulty."  As I presented my candidate's response at the past Annual Session, I included the word "opportunity" in that response several times.  Read More
---
Award Winning Programming from NEAFCS Members
This is a new feature of the newsletter! You asked for examples of the programming that your fellow members are producing and we'll be doing just that each issue. 
Communications Awards - Internet Education Tecnology
1st Place National Winner - 

Lisa Poppe & Team, Nebraska


"Choosing Quality Child Care Website"

Childcare programs are not the same, so it may be helpful to identify what values, elements, and standards are important to your family when choosing the care for your young children.

Team Members: Sarah Roberts, Linda Reddish, Jaci Foged, Katie Krause, Holly Hatton-Bowers, Becky Aiken, Anne Holz, and Lee Sherry
File 1, File 2

---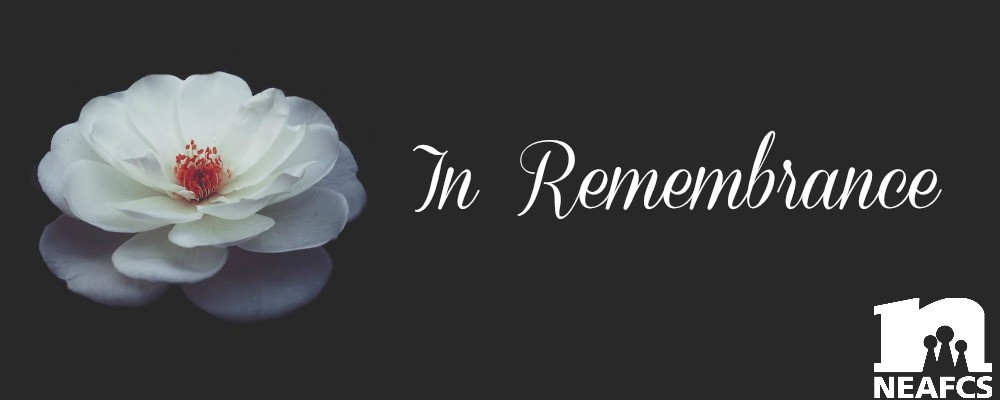 Future issues of the NEAFCS Network will include recognition of members who have passed. If you would like to report the death of a NEAFCS member, please click here.
Marilyn Myers, NY (Life Member)
Elizabeth Guyer, AZ (Life Member)
Sharon Blasé, NJ (Life Member)
Ruth Armstrong, NC 
Ruth Scarlett, WA (Life Member)